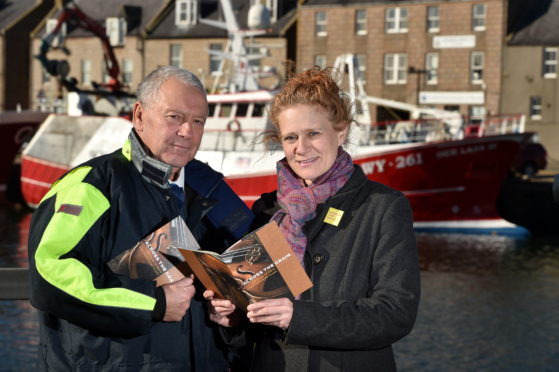 A film created for the Across the Grain Doric festival will be showcased next weekend at the fish market in Peterhead.
The 20 minute short production will be completed with an original, contemporary soundtrack encapsulating the sounds of the north-east.
Commissioned by Aberdeenshire Council's cultural services team, the aim was to study and celebrate the diversity of people, place and nature across the area.
North-east film-maker Graeme Roger and sound artist and musician Dave Martin spent three days with the project partners to create the sequence.
Screening locations included the Peterhead Port Authority, the RSPB nature reserve at the Loch of Strathbeg and the River Dee Trust.
Film-maker Graeme Roger, who hails from Moray, described it as an observational film.
He said: "With the way I filmed it, I aimed to slow an experience of Aberdeenshire down so the hustle and bustle could be seen in a new light.
"We're 90% there – we also chose screening locations to project the movie in specific places.
"I like to film in a conceptive way and this quarter screen film is designed to be played on loop so people can dip in and out rather than have a narrative.
"It's a poetic experience."
Jennifer Shaw, arts development officer for the north, said: "The aim behind the film and sound installation was to engage a film-maker and a musician to work in areas that cover the geography of our region which encapsulate the Aberdeenshire Council strap line 'From Mountain to Sea'.
"We wanted fresh eyes to look at our contemporary culture here in the north-east and create an innovative short film with an intriguing soundscape that captures the hearts and minds of locals and visitors alike.
"The two artists – Graeme Roger and Dave Martin – are now in the final editing stage.
"So far I've seen a 30 second teaser which cuts together beautiful and atmospheric sequences including workers in the fish market, the flight of waterfowl over Loch of Strathbeg and drone footage.
"I can't wait to see the finished piece when it's screened to the public."
The short film, supported by Creative Scotland, will be screened at Peterhead's fish market on October 13 from 4pm to 6pm.
The second screening is planned to take place at the brand new library within the refurbished Ballater Railway Station, on October 14.
Councillor Anne Stirling, chairwoman of Aberdeenshire Council's communities committee said: "Across the Grain starts this year and it is hoped that local links and partnerships will grow and develop to deliver even more Doric celebration year-on-year."