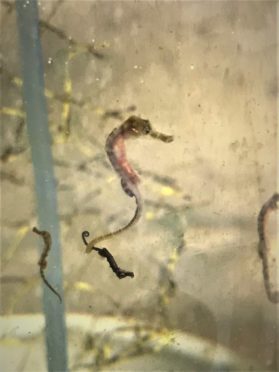 Staff at a north-east aquarium are delighted that five young seahorses have beaten the odds to survive.
Spiny seahorse are native to UK waters but breeding in captivity has been relatively unsuccessful so far.
In the wild, the survival rate for these 6mm babies sees only one in 2,000 making it to adulthood.
Macduff Marine Aquarium welcomed a 200-strong fry – the collective term for a litter of seahorses – at the end of the July, and five have now reached the three month milestone.
They have another three months to go before they officially reach adulthood, and staff are hopeful they will make it.
Manager Claire Matthews said: "We're delighted the wee seahorses have made it this far – they are looking robust and healthy.
"We are still trying to get them eating dead food – at the moment they are being given enriched brine shrimp.
"Eventually they will become too big for this planktonic food to be sufficient for them.
"So we are not through the woods yet due to the specific nature of their feeding habits."
Since they were born, the male hippocampus guttulatus – who came to Macduff in 2016 from Portugal along with two females – has had another fry, and is showing signs of expecting again.