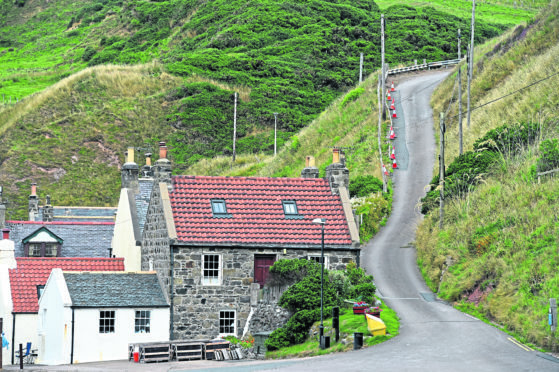 Work to repair the only access road to a tiny Aberdeenshire community is expected to be finished later this week.
The route to Crovie has been closed since last September due to a landslip, which meant locals could only access their coastal village by foot along a privately-owned track or by scaling 84 steps up a rock face.
Aberdeenshire Council recruited a specialist geotechnical firm to repair the damage and bring the road back into use.
Once that work commenced, the local authority offered villagers a shuttle service to travel from the top of the village to the bottom.
There is also a quad bike and trailer service to help move bigger items.
More than 170 soil nails and mesh has been used to pin back the crumbling cliff face.
Road resurfacing was due to take place last weekend, but the stormy weather hampered any potential progress.
Last night, a council spokeswoman said they would let people know about the road once the £500,000 restoration is complete.
She said: "We are still expecting the work to finish this week.
"If the bad weather at the tail end of last week sets us back, it shouldn't be long.
"But, right now we are still working towards a re-opening this week.
"When the road re-opens we will put out an update."
Villagers were left angry at the delay to repair the landslip after 12 months of closure.
Speaking earlier this year, Shona Stuart called for an independent inquiry into the authority's handling of the issue.
She said: "We feel we have been cut off from safe access.
"Tradesmen needed for essential repairs are also refusing to come and, with no access to the main car park at the bottom of the cliff, the only place to park is in the overspill area at the top which is full.
"Tourists are just driving away. People here work hard to preserve this village, so this is scandalous.
"We need an independent inquiry as to why it has taken so long to repair the road."