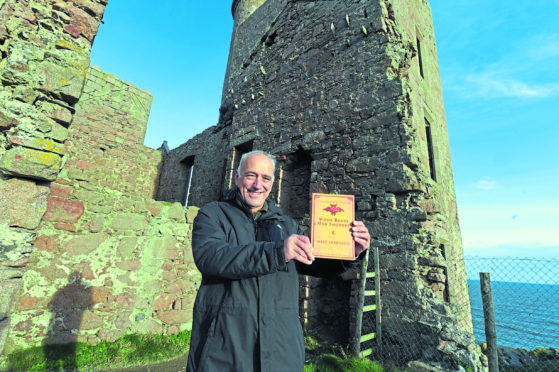 A new book will offer a fresh insight into the links between Dracula author Bram Stoker and a north-east village.
The Irishman's tale of the mysterious Transylvanian aristocrat was first published in 1897 and its events take place largely in England and within the Carpathian Mountains.
Much of the creative process and writing that lead to the classic novel, however, took place while Stoker and his family were on holiday in Cruden Bay.
He began writing Dracula in the village two years before it was published and is said to have taken great inspiration from the coastal community.
The octagonal hall in nearby Slains Castle even has a look-a-like in Stoker's most famous work and is mentioned when Jonathan Harker is shown to his room in the count's castle.
That and other links will be revealed in local historian Mike Shepherd new book When Brave Men Shudder: The Scottish origins of Dracula, which tells the story of how one of the scariest of all tales came to be written.
Mr Shepherd has used local archives, including copies of The Press and Journal, to piece together Stoker's 13 visits to Buchan and the surrounding area.
---
>> Keep up to date with the latest news with The P&J newsletter
---
He found out that Bram Stoker opened the Peterhead flower show in 1904 and spent a night at the Garden Arms Hotel in Gardenstown.
Mr Shepherd said: "He started writing Dracula in the village in 1895, behaving very strangely while doing so.
"He withdrew emotionally from his wife and son, becoming quick-tempered at any interruption. They became quite frightened of him.
"He would then escape to Cruden Bay beach to think out his novel.
"It's been suggested that he was acting out the part of Count Dracula to add an authentic tone to the writing."
Bram Stoker's great-grand-nephew, Dacre Stoker, has written the introduction to Mr Shepherd's book.
He said one of the strengths of it is the fact that the author lives in the village himself.
Mr Stoker said:  "Mike is the first to investigate Bram Stoker's time in Cruden Bay in detail.
"The Aberdeenshire village in the north of Scotland is perhaps too remote for most. That is except for Mike – he lives there.
"This helps, as he is intimately familiar with the localities associated with Bram Stoker and has access to unpublished local archive material."
When Brave Men Shudder: The Scottish origins of Dracula will be published on October 31 – bearing the same yellow and red cover as Stoker's original masterpiece.