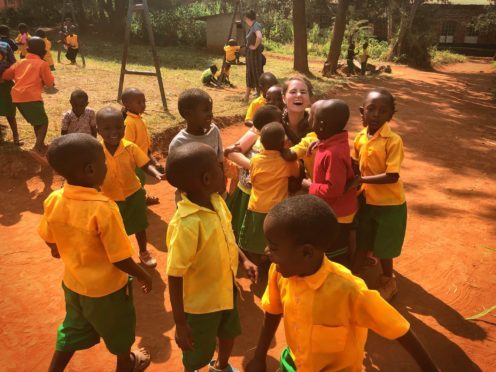 A north teacher has described the life-changing experience of working with children in disadvantaged countries, and encouraged others to broaden their horizons by teaching abroad.
Caitlin Morrison, who works in Wick, has spoken out in support of the Global Learning Partnerships (GLP) scheme.
The project arranges placements for teachers which offer them the chance to discover how children are taught in environments radically different to their own.
Ms Morrison explained how educating children in Rwanda, some of whom walked 12 miles to attend classes, impacted upon her.
She said: "There were children in Rwanda who walked 12 miles to school and back, meaning they often had to leave home at 3am to arrive at school on time.
"The dedication to getting an education was so impressive.
"The country, the people and the culture make the placement so worth it. People's teaching practice will improve in leaps and bounds.
"And teachers will also make lifelong friends and colleagues."
---
>> Keep up to date with the latest news with The P&J newsletter
---
The scheme has provided 86 Scotland-based educators with a range of new learning experiences far from their homeland since it was launched in 2012.
Jill Callander, probationer mentor at Aberdeenshire Council, was part of that origiinal group and is now a team leader with the organisation.
She said: "GLP is the best activity I have experienced in my career and has had the biggest impact on both my professional and home lives.
"It immediately opens you to opportunities, and collaboration with colleagues from across primary and secondary, as well as other educational sectors."
More than 20 new practitioners are now being invited to join the next trip, which will include spending a month in Rwanda or Uganda in 2019.
GLP works in partnership with ethical local organisations IEE Rwanda and Redearth Education to help develop the skills of education professionals within host countries.
Through community-based placements, it facilitates the sharing of knowledge, ideas and best practice to support improvements in teaching and learning.
The programme's manager, Georgea Hughes, said: "Meaningful global education is essential for the prosperity of our planet.
"There has never been a greater need to develop young people's understanding of their responsibility to actively contribute towards a more equitable and sustainable world."
Application forms and further information are available at www.glpscotland.org.uk.
The application period is active until January 11, 2019.