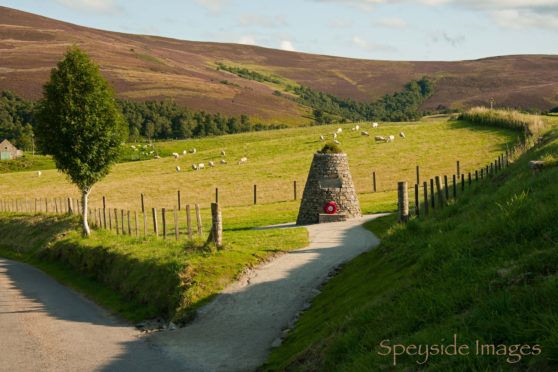 The First World War redefined the standards by which the impact of conflict could be felt, but one north-east community was still ravaged to an unimaginable degree.
Indeed, such was the devastation wrought upon the men of the Cabrach, in Moray, that one historian described the ruined crofts and steadings left in their wake as "the biggest war memorial in Europe".
The Cabrach Community Association has, however, been taking steps to more officially commemorate the fallen and create a fitting memorial to the many men and boys who perished.
And now they are planning to install newly-created gates at the site of a war memorial cairn unveiled by Prince Charles in 2015.
An extraordinarily large number of residents from the Cabrach died during the First World War.
Most were lost in Belgium or France, killed in combat or succumbing to the diseases which, coming from a remote rural area, they had little resistance to.
To enhance the memorial, on the centenary of the end of the conflict, the association held a competition to design gates to enclose the cairn.
The winner was local secondary student Euan McBain, who will unveil his design prior to the CCA's remembrance service on Saturday November 10.
Mr McBain said: "The story of my design for the gates is to symbolise a farm hand on the left of the gate working on a farm before being called away to war.
"On the other side of the gate, he is now dressed as a soldier in his uniform at war.
"The poppies are to remember the many who did not return."
The association has also been given a WW1 Tommy silhouette by the Dufftown Legion.
A spokesperson said: "The Silent Soldier installations honour the memory of the Armed Forces personnel who made the ultimate sacrifice and those who defend the freedom we enjoy.
"We are fortunate that Sandy Duncan, great nephew of Private Robert Duncan of the fifth Gordon Highlanders, who fell in the spring offensive of 1918 and was buried by the Germans as a mark of respect on April 10, 1918 at Foisne-le-Petit, has provided us with some family records.
"We have names of the some of the fallen servicemen from the First World War, but we fear this may be incomplete and more information is always welcome."
The CCA's list of the local troops who died during the conflict bears the names of: Pte William Douglas of the Buck, Piper John G McGrimmond of the Balloch; Pte James Crampshee of Largue: Cpl Norman John Robertson of Lower Schoolhouse; Pte Alexander Clark of Howbog; Rfn John Gordon of Auchmair Pte Peter Clark of Howbog; John W Innes of Hillhead; L Corp James Smart of Badchier; Pte William Hendry of Ardwell; Pte Peter Gordon of Bowmans; Pte Robert McIntosh Duncan of Whitehillock; Pte William James Donald of Bridgend; Alexander Watt of Ardwell; Wireless operator William Taylor of Bridgend and Pte Alexander McConachie of Broomknowes.