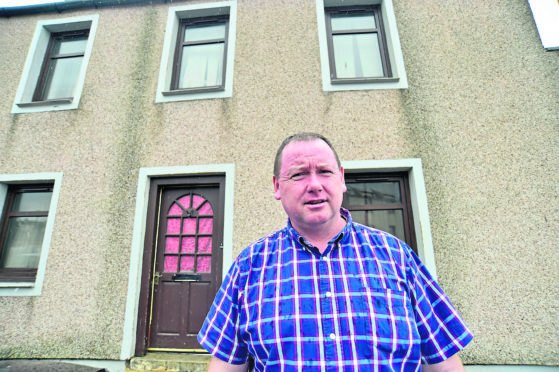 A delighted businessman has been given the go-ahead to demolish a dilapidated C-listed building to expand his popular shop.
Des Cheyne, the owner of the Spotty Bag Shop in Banff, applied for permission to bulldoze the property next door which had fallen into a serious state of disrepair.
Knocking down the building at 11 Old Market Place would make space for a larger storage yard for his store.
---
>> Keep up to date with the latest news with The P&J newsletter
---
The Banff and Buchan area committee has now unanimously agreed to support the plans despite recommendations from Aberdeenshire Council officers to reject the proposals on the basis that it was listed as a building of local importance.
It once formed part of the historic market place in the coastal town.
It was noted by several councillors at the area committee that few of the other properties which would constitute the market were still standing.
However, committee vice-chairman and councillor Michael Roy said: "Many know my views on conservation and I'm keen that it's always a priority.
"But there's an exception that proves every rule.
"Here is that exception and I'm happy to propose a motion to support this application.
"Conservation protects the jewels in our towns and this building isn't one of them as far as I'm concerned.
"The Spotty Bag Shop has contributed to the transformation and the economic viability of Banff and is a significant destination for the area and the north-east as a whole."
Consideration was also made to the fact the crumbling property would require a large sum of money to bring it back into use.
Chairman Andy Kille added: "I'm sympathetic to the planning department but the fact the area is prone to flooding and can't be easily restored pushed it past the line for me."
Once demolished the space will be turned into a storage facility and a site for deliveries.
Mr Cheyne said: "I'm delighted with their decision and I think it really shows that the area committee saw the potential in the business moving forward.
"The comments showed councillors are serious about regeneration in this area.
"Our next steps will be getting the building down and getting hard surfacing down until we can expand more.
"Hopefully we can continue to provide employment and enjoyment for people as it was great the councillors considered the work we've put in.
"Being Banff born and bred, I'm happy it's been a good news story for a change."
It is thought the process of delisting the building will take several months and then the building can be safely demolished.