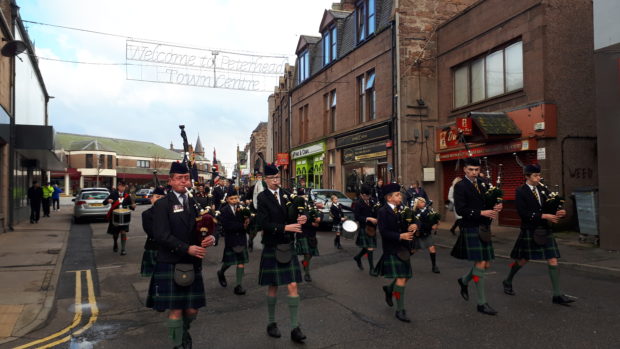 Hundreds of north-east residents attended commemorative services to mark the centenary of the end of the First World War yesterday.
Poppy adorned crowds gathered along the pavements in Peterhead yesterday morning to watch the parade from the Royal British Legion building.
It was led by the Robert Gordon's College Pipe Band and the sombre pace and poignant music set the tone for the morning.
Uniformed units and various branches of the armed forces dressed in full regalia marched down Marischal Street to the cenotaph.
Representatives from each unit stepped forward to lay their wreaths, saluting or gesturing to mark their respects to those who historically sacrificed their lives and to those still fighting today.
The parade continued to Peterhead New Parish Church where Fishermen's Mission Superintendent Steve Murray held a service for the large congregation.
He said: "It's a poignant year with this being the 100 year anniversary and although the remembrance is about that, it's also about every one of them who gave up their lives over the many decades and centuries."
Andrew Sinclair performed a moving solo and music by the ladies and gents of the New Parish Church Choir was interspersed with hymns, prayers and a two-minute silence.
The parade then marched back to the Royal British Legion.
There was a large turnout to watch the traditional parade to the Old Parish Church in Fraserburgh which was followed by a visit to the war memorial on Saltoun Place.
The Honourable Kate Nicholson, the daughter of Lady Saltoun, lay down a wreath along with members of the armed forces.
Cruden Bay residents also attended a memorial service in the village. Councillor Stephen Calder attended and described the service given by the chaplain as "excellent".
He said: "The words by Fred Coutts were very moving and it was a great service to remember and reflect."