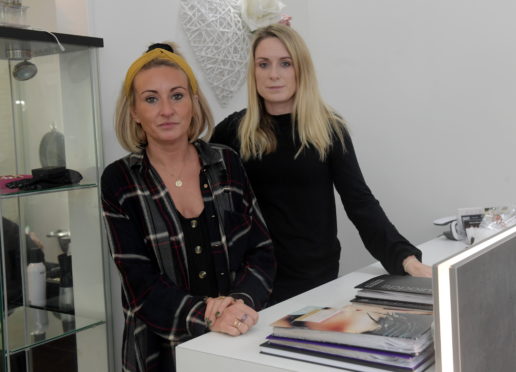 A salon owner in Peterhead has spoken of her devastation after she was robbed for a second time in just a matter of months.
The perpetrators smashed their way into Room 7 on Rose Street in the early hours of Tuesday morning removing around £1,000 worth of produce.
A Macmillan cancer charity tin was among the items removed from the property as well as a selection of hair straighteners, dryers and Matrix products, handbags and scarves.
Susanne Bain, co-owner of Room 7,expressed her revulsion yesterday and said stealing from charity was the "lowest of the low".
She added: "I was on holiday and I got a message from the shop across the road about 8am to say that someone had been in the shop.
"I phoned my parents and Rosie – my business partner – and they went down. That's when we realised the door had been kicked in. There are two glass panels on the door and the bottom glass panel was smashed.
"A woman who comes in did a Brave the Shave for Macmillan and we were still raising money. I don't know how much was in it, but they took the tin as well. It's devastating.
"That's the worst part. How can someone steal from a charity; it's the lowest of the low."
A sum of money was also stolen from LN Studio on Broad Street as attempts were made to gain entry to Ingrams Bakery on Ellis Street around the same time.
These robberies followed a string of similar incidents in the north east in which charity collection tins were removed from stores in the town centre.
Constable Neilson, the inquiry officer, said: "Whilst we have carried out extensive inquiries to identify CCTV in these areas, we are appealing for anyone who may have private CCTV systems to notify us and check their systems for anyone going about during this time.
"Hair and beauty products have been stolen and a charity tin from one of the shop premises has also been taken."
"We ask that anyone who may have been in the area and may have seen anything unusual or suspicious to contact us on 101 using reference number 0286261118."
Dianne Beagrie, councillor for Peterhead North and Rattray said: "I'm very disappointed to hear of all the break-ins in my ward. Our local business owners work hard and do not deserve this."