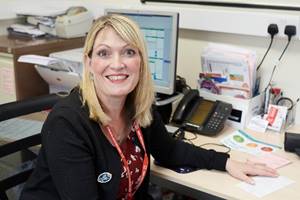 A nurse and an offshore medic from the north-east of Scotland have been awarded the prestigious title of Queen's Nurse.
It's only the second time the honour has been made in Scotland in almost 50 years.
The two medical professionals were awarded the title after taking part in a programme run by the Queen's Nursing Institute Scotland.
Kirsteen Coady, an advanced nurse practitioner at Macduff Medical Practice, and offshore medic and occupational health and safety advisor Bob Gardiner were awarded the title during a ceremony in Edinburgh last night.
Each of them received a Queen's Nurse badge, a certificate signed by HM The Queen and a specifically commissioned Harris Tweed sash or tie.
Mrs Coady, from Banff, said: "I do get a lot of job satisfaction in my role and that stems from the relationship with the people within the practice.
"As the lead for people with long-term conditions, I am there as a catalyst to support them to self-manage and help keep them safe.
"I am absolutely delighted to have had the opportunity to become a Queen's Nurse.
"The programme has been life-changing for me, it has truly brought out the best in myself and I'm excited to continue building on the services that improve the wellbeing of people in this community."
She has worked for the practice for almost 20 years.
Mr Gardiner, from Elgin, who worked most recently on TAQA's Eider platform, north east of Shetland, has been in the industry for 33 years.
He said: "My role as a medic is to provide primary health care and emergency services to more than 90 people working on the platform.
"Health care delivery and health risk management in the oil and gas industry is challenging but exciting; I am passionate about my role and I fight to promote health in the workplace at every opportunity.
"I feel very proud to have gained the Queen's Nurse title. There is a lot of responsibility that comes with the role – we are standing on the shoulders of those who went before us as there's so much history there with the title.
"It's an honour and I want to do justice to the title."