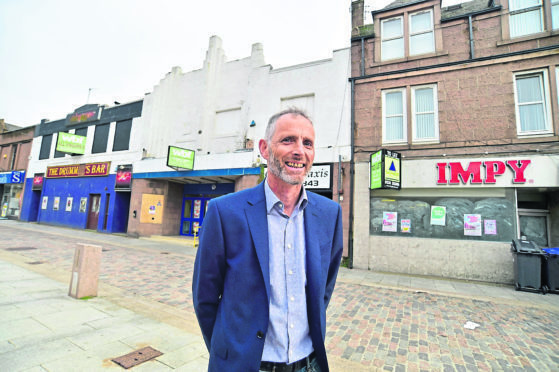 Peterhead town centre may have had a bad start to the year in 2018 with the closure of the bingo hall on Marischal Street.
It left one of the port's most prominent buildings lying empty, however plans have since been drawn up to convert it into a restaurant.
And last month the old Wimpy restaurant reopened as a brand burger bar.
The former Drummers Bar is also being turned into the latest outlet for Ellon-based craft beer firm Brewdog.
And for Rediscover Peterhead, the body tasked with reviving the central area, the projects represent a major turning point for the town.
John Pascoe, chairman of the business improvement district (BID), believes it shows the Buchan port has plenty to look forward to in 2019.
He hopes the recent changes act as an inspiration for other firms to move into the town centre following the developments at two nearby units.
Mr Pascoe said: "Rediscover Peterhead is pleased to see these new developments progressing in town and in Marischal Street/Drummers Corner area in particular.
"Brewdog coming to Peterhead and converting a large empty business premises demonstrates confidence in the town centre and we think this might inspire other businesses to also seek to take leases in other empty units."
Rediscover Peterhead is gearing up for a busy 2019 and has two major initiatives in the pipeline.
One is marketing empty shop units and other involves a brand new CCTV network and free town centre wifi.
The group will work with landlords and the council on its Invest in Peterhead scheme.
Mr Pascoe said they will try to match potential tenants with the right size of property.
He said: "Landlords, agents, Aberdeenshire Council and interested parties will be discussing how to market the empty units to match gaps and demand in the town centre.
"This will involve some ghost planning on a couple of the larger units to see how they could be changed and altered to make them more appealing to help them let.
"We will be encouraging both existing businesses and also new businesses to look at the merits of settling in the town centre."
The CCTV network and free wifi has been named the digital partnership project and would involve a partnership between Rediscover Peterhead, the council and the police.