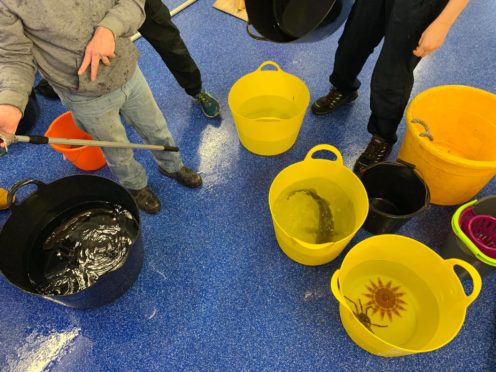 Scottish creatures of the deep sea have found a new home at Macduff Marine Aquarium.
The critters from Buchanhaven Aquarium have been moved to the larger facility permanently with the exception of the rare orange lobster which will return to Peterhead in the spring.
A large tank full of local sea life opened in the Buchanhaven Boat Shed on Harbour Street in June this year after the Blue Toon community backed plans for a sea life centre.
Harbour chiefs secured £9,000 of funding last year to set up the 10ft aquarium.
Fish and sea life living there will be gifted to the Macduff aquarium when the centre closes for winter each year.
Buchanhaven Harbour chairman Arthur James McKenzie said: "This will be happening every winter as we are quite quiet from October onwards.
"We work quite closely with the team at Macduff Aquarium so asked them if they would like a fresh stock of fish and sea life each year.
"They were more than happy.
"So we decided on a day and the guys from Macduff came down with tanks to take them away.
"Only the rare red lobster will be returning here as we can get new fish in the summer no problem.
"Giving them a steady supply of sea life each year is a great idea."
The fish from Buchanhaven are all caught in the surrounding area by the group who run the shed and local fishermen.
Macduff Aquarium manager Claire Matthews said: "We're hosting their orange lobster who will stay with us until the spring when the aquarium opens again.
"There's wolf fish, some ling and some cod too, I think.
"At the moment all of them are in quarantine just in case of any infections or anything so aren't on show quite yet.
"In the new year they will be going out.
"We're delighted as it's hard to get local marine species.
"It's a really nice arrangement with the Buchanhaven Aquarium team as they've been great supplying us with animals in the past."
The boat shed was revamped when the fish relocated and is now a festive grotto with a homemade sleigh.
Mr McKenzie added: "Over the period we will be closed our boat owners can carry out repairs to their boats.
"Also we decided to do a Santa's grotto this year over the weekend so built a Santa's sleigh and have kitted the place out to be able to give the local community a chance to see Santa and give the kids a nice present."
The grotto will be open today and tomorrow from 2pm to 5pm.