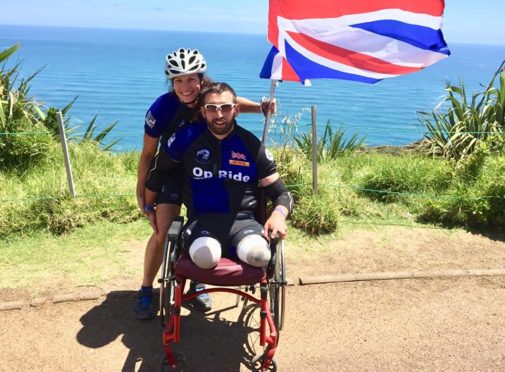 A north-east oil and gas worker is back home after a gruelling tandem-bike ride across New Zealand.
Caria Ammerlaan took part in Operation Ride – a 1,521-mile challenge – to raise cash for Pilgrim Bandits, a charity that helps and inspires injured veterans to life life to the full.
The expedition was completed on tandem bikes alongside veterans who have had their legs amputated as a result of war.
Four teams of six set off – two from the UK and one from Canada and another from New Zealand – in Bluff, finally finishing in Cage Reigna 18 days later.
It is not the first the 41-year-old has taken part in a physical challenge, having completed the 100 Peaks Challenge in June 2017.
To prepare, she cycled around Yorkshire, Normandy and Aberdeen – often on her own, as her teammates were mostly based down in south.
Miss Ammerlaan got involved after meeting the charity's ambassador, Ben Parkinson, at an awards ceremony for the Commando Speed March.
She said: "I got chatting with Ben and his team about the expedition they were planning in New Zealand using tandem bikes.
"Following my successful completion of the 25 day-long 100 Peaks Challenge in June 2017, I was asked to join the Operation Ride New Zealand team. The team prepared by meeting up for training weekends in Yorkshire and in Normandy.
"Most of my training was done in Aberdeen on my own as the team members were spread all over the UK, mostly located in England and Wales. The team also organised fundraising events throughout the country."
Miss Ammerlaan admitted it had not been easy, but said the strength of the veterans she was riding alongside kept her going.
"My main reasons for supporting Pilgrims Bandits were to give something back to the people who have given us our freedom which is not to be taken lightly and often taken for granted," she said.
"The sacrifices they had to make, the obstacles they have overcome, living with the physical and psychological effects of conflict on their daily lives and the way they deal with this is inspirational and humbling.
"During Operation Ride I never heard any of the veterans complain, they just got on with the job in hand. At times when I struggled it was them pulling me through."