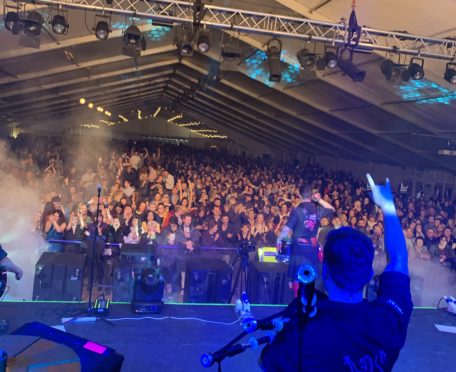 Thousands of people flocked to a north-east show ground to welcome 2019 with open arms.
It was the first-ever Hogmanay at the Haughs event in Turriff and organisers have hailed the New Year celebration following its debut.
A purpose built marquee became the base for around 3,000 revellers who enjoyed music from top traditional group Manran and the legendary Red Hot Chili Pipers.
The Haughs is the home of the Turriff Show, but it was transformed into a Hogmanay haven as people danced and sang their way into the new year.
Cilla Wood, one of the organisers of Hogmanay at the Haughs, said the celebrations had continued well into January 1, adding that the temporary venue had "erupted" as the headline act began their set.
Ms Wood said: "The warm , friendly and happy party atmosphere was plain to see with everyone chatting to family and old friends and making lots of new ones during the Hogmanay Party.
"They came , they saw , they ate, they drank, they sang and danced through the whole evening and night and well into the early hours of the morning
"What a show was put on for everyone, with local band the Rowies kicking things off, followed by Manran and then what the crowd had been waiting for, the Red Hot Chilli Pipers.
"When they took over the stage the whole place erupted, nearly taking the roof off at one point, as they welcomed the pipes, drums  and dancers."