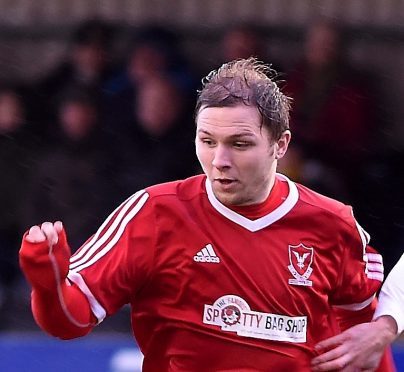 A Highland League footballer told yesterday how a serious knee injury left him unable to play with his toddler daughter.
Dane Ballard plays with Deveronvale FC but his footballing career with the Banff side was put on hold after he was injured on the pitch.
The 26-year-old suffered a ligament rupture and tear of the lateral meniscus when his studs got caught in the pitch at Rothes' Mackessack Park last September.
His club has now launched a fundraising campaign in the hope that £7,500 can be raised to pay for his  surgery and rehabilitation.
It's feared that it could take longer than a year for the footballer to get an operation through the NHS due to long waiting lists.
And officials hope that private treatment will help their star striker get back in action sooner rather than later.
---
---
Mr Ballard was signed off his work from his prison officer job due to the injury and the pain has left him unable to play with his toddler daughter.
He revealed that it has been  "torture" for him watching his teammates play the game from the stands.
Mr Ballard said: "I was signed off work for two months after the injury then I had a phased return which lasted another month.
"Day-to-day it is very frustrating as I'm still on anti-inflammatories and painkillers from my doctor as there's still discomfort and pain.
Highland League football team launch online crowdfunder to help stricken striker
"I can't run around with my three-year-old daughter like I normally would as I'm always wary of it giving way again."
Mr Ballard played for Rangers as a youth and has also been taken on by a string of clubs in the north-east.
The 26-year-old said he was left in "shock" after hearing of Deveronvale's plans to run a crowdfunder campaign to help pay for his treatment.
He said: "When I first heard it came as a bit of a shock as I wasn't expecting anything like this to be set up but it was touching at the same time.
"I'm very grateful that the club want to try and get this operation brought forward as soon as possible and get me back playing."
All being well Mr Ballard hopes to pull on Deveronvale's number nine shirt again next season.