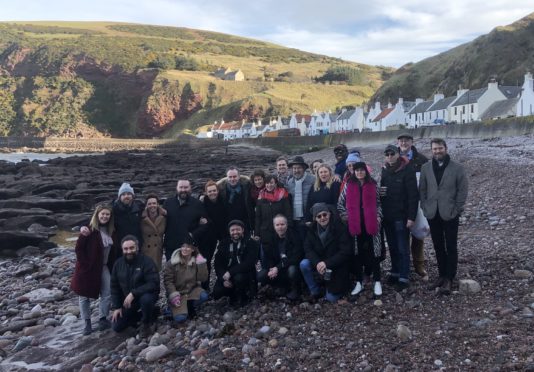 The cast and crew of a musical version of the 1983 film Local Hero have visited arguably its biggest star, Pennan.
The Aberdeenshire coastal town shot to fame after being captured as the fictional village of Ferness by writer and director Bill Forsyth.
Now artistic director of the Lyceum David Greig, alongside Mr Forsyth, have co-written a musical adaptation which will be hitting the Edinburgh stage from March 14.
The film is centred on an American oil company representative who is sent to Ferness in the west of Scotland to purchase the town and property for the company to build a refinery.
He travels to Scotland, gets accustomed to the quirky locals, before land ownership issues get in the way of his happiness.
The movie end with the iconic Pennan red phonebox telephone ringing as the star calls those he left behind in Scotland.
Members of the cast and crew took the chance to visit the village, exploring the Ship Inn featured in the movie, grabbing pictures in the phonebox and speaking to locals about their tales.
Mr Greig said: "This Saturday the whole cast of the new stage musical Local Hero took a trip up to Pennan and Banff to see some of the locations for the film and we had an absolutely wonderful time.
"The story is so much about the location that to be able to see this beautiful region in person was a fantastic help as we set about celebrating the area on stage.
"A special thanks goes to everyone who made us feel so welcome – to the lovely team at The Ship Inn who let us in early, with a fire roaring and made us feel so welcome – it was like stepping into the film, and to everyone in Pennan who came down to say hello and share their stories – and their tea- with the cast.
"They could not have made us feel more at home and we look forward to returning the favour and welcoming them to The Lyceum when they come to see the show."
Among those welcoming the cast and crew was Banff and Buchan MP David Duguid.
He said: "I've always been a big fan of the film version of Local Hero, which was on TV again on Christmas.
"They were obviously very keen to see the village and talk to people locally. In fact, the village was one of the stars of the film production, much like Portsoy in the recent remake of Whisky Galore.
"I recognised one of the actors, Simon Rouse from watching the long-running TV crime series The Bill."
The show will be in the Royal Lyceum Theatre in Edinburgh from March 14.
Mr Duguid added: "The exposure for Pennan – and the wider Banff and Buchan coastline – from this musical production can only be good news for our local area."