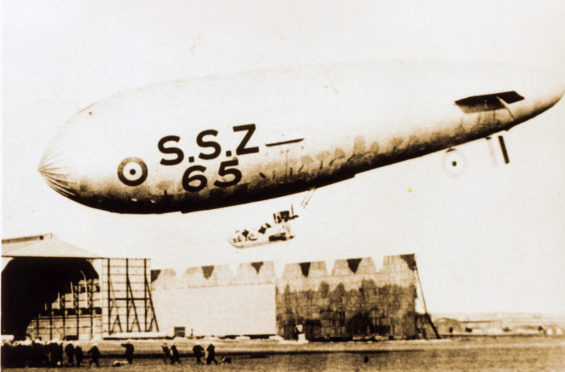 A memorial to a tragic WWI airship crew is to be rededicated 100 years after it was erected at a north-east church.
The propeller from C25 is only piece of the aircraft ever found after it crashed into the North Sea in the summer of 1918.
Draped in the Union Flag and the White Ensign of the Royal Navy, it can be found above the door to the Vestry at St John's Church in Longside.
The airship was based at the Royal Naval Air Station (RNAS) Lenabo outside the village and the wooden blades from it are used to commemorate the four men who died.
They were pilot Captain HR Hopperton, engineer EK Atkinson, coxswain corporal LG Fairs and airman E Groves.
---
>> Keep up to date with the latest news with The P&J newsletter
---
St John's Church secretary George Marshall said it was important for them to remember those who flew out of Britain's most northerly airship station and never returned.
Mr Marshall said: "The memorial was originally kept in the board room or mess room at Lenabo.
"It was moved when the station closed and it was fitted at the church on March 9, 1919, with a service was held to dedicate it.
"I'm in touch with the relatives of two of the crew who died and they're coming up from the south of England for the rededication service."
The airship facility near Longside was built in 1915 and its remit was to protect North Sea shipping lanes from German submarines.
Locals referred to the airships as Lenobo Soo, a reference to the name of the area combined with the word for a female pig.
Up to 1,500 people worked at the base and it had its own railway station, shops, swimming pool and theatre.
The station closed in 1920 and many of the hangars and workshops from the 900 acre site were simply torn down.
The area is now covered by forest, although concrete foundations, anchoring blocks and various ruins are still visible.
In a 2003, Longside Community Council erected a commemorative plaque on one of the last walls standing at the former base.
The rededication and thanksgiving service to the crew of C25 will take place at St John's Church, Longside on Sunday March 10 at 3pm.