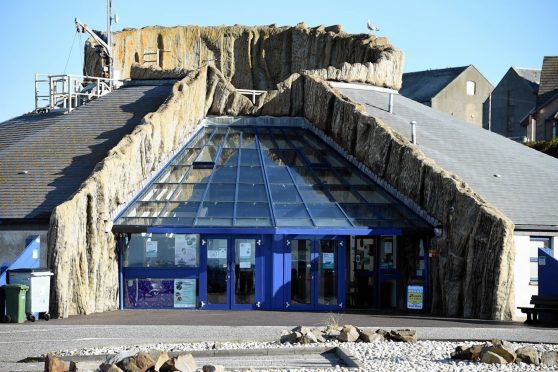 A vision to upgrade a beloved Banffshire tourist spot has been unveiled.
Macduff Marine Aquarium opened more than 20 years ago and has become one of the region's most popular attractions, hosting regular events for visitors of all ages who drop by to see the array of sealife on show.
Now in an effort to bring even more visitors to the area, a list of options has been drawn up to improve the facility, with a £1million upgrade chosen as the preferred option.
The idea involves improving the entrance and creating a cafe – not only for aquarium users but also locals and visitors to the wider Macduff area – as well as a learning space.
---
>> Keep up to date with the latest news with The P&J newsletter
---
The Macduff Development Partnership has been considering options for the museum, and stressed last night that the revamp was at a very early stage.
Chairman Ross Cassie said: "Obviously over the years, works have been carried out at the site but this would include making the experience more interactive by developing the touching pools and have more digital things going on.
"From our meeting on Monday, we're now hoping to move things onto the next stage.
"There's still a lot of hoops to jump through to get to the stage we can reveal more.
"The aquarium has a great reputation, we now just need to increase its attractiveness for visitors from further afield and provide excellent educational resources for the local community."
The development would be partly funded by the council's regeneration pot.
Mr Cassie, who is also a councillor, said the £1million development would give "good value".
He added: "From the information I have, this option would be better as it highlights the chance for a cafe area to be put in and increases the commercial aspects of the aquarium – I'm glad it's going to be explored.
"It would also include a space for education and be a revamp within the attraction itself that would provide a sustainable option going forward."
Aquarium manager Claire Matthews said everyone was enthusiastic about potential developments in the future.
She said: "It's a really nice position to be in to have something possibly at the start of the pipeline.
"I'm excited but so much will have to happen before this can get close to becoming a reality.
"We're looking at ways we can potentially develop the aquarium and improve the experience and longevity going forward."
The council-owned attraction welcomes more than 50,000 visitors every year.
Mark Findlater, councillor and a member of the Macduff Development Partnership, said: "Macduff Aquarium staff do a magnificent job and it's an extremely important major asset for the town and the options put forward will only add to the future of this wonderful facility."