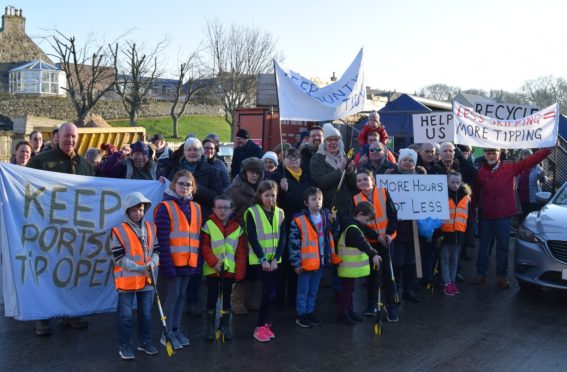 Campaigners who successfully fought to save their recycling centre have been vindicated – after figures showed it was one of the most-used facilities in Aberdeenshire.
Residents of Portsoy banded together to fight proposals to shut their skip in a cost-cutting move.
Aberdeenshire Council eventually backed down and instead of closing Portsoy and Insch, decided to revise the opening hours of all 11 centres.
And now figures have shown Portsoy Community Council was right to protest, as the facility has the second highest recycling rate in the region.
---
>> Keep up to date with the latest news with The P&J newsletter
---
Portsoy residents increased the amount of waste they recycled by 13% during 2018, bringing them to a total of 69% of waste being recycled.
This puts them just after Banchory, which has a 70% rate.
It is the only Aberdeenshire Council recycling facility currently meeting the target of 70% although the Portsoy increase shows progress is being made.
Matt Davis, from the council's waste management team, reported the findings at a community council meeting this week.
He said: "Recycling rates at Portsoy were up from 56% in 2017 to 69% last year.
"We did wonder whether the closure sparked more recycling but its not true, the rise started in February and went up each month by varying amounts."
Last night, community council chairwoman Caroline Hobbs said: "It's really exciting news to be second equal when they had actually proposed to shut it.
"We hope that we can beat our 69% in the next year and maybe make it into a competition and top the table.
"We really are delighted and very proud of how well our community has pulled together to recycle more and show we're serious about our site."
There are also hopes that recycling events will be held to better educate locals and children on what they can recycle.
Mr Davis was originally invited to the meeting to answer questions on the change in hours and how that would save money.
The Portsoy site will now be opening on Tuesdays and Saturdays for 14 hours in the winter time and 16.5 in the summer time which will now span six months.
He said: "All together that saves around £3,000 a year.
"Staff will be getting 15 minutes before opening and after closing to get things prepared so that's why we changed the hours from five three-hour blocks as it saves more money.
"It also brings other centre times in line with each other meaning the duty officer times work out better saving more money again."
The change in hours is predicted to start some time in May.