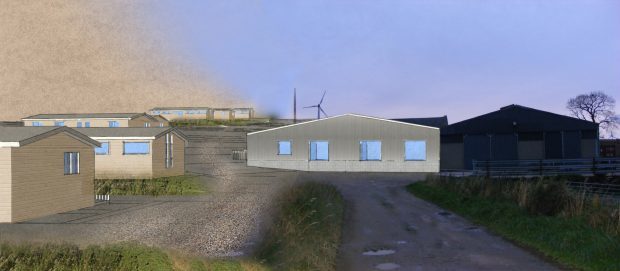 A developer has unveiled plans to build 15 new homes next to a proposed rehabilitation centre on a farm near Banff.
Blueprints for the facility showed a hydro pool, gym, education centre and five lodges to be constructed at Hilton Park.
The company behind the idea, Re-Nutherapy, wants to use the base to aid people recovering from injuries such as spinal problems, brain tumours and  strokes.
Council planning chiefs approved the proposal to convert former agricultural buildings into a new centre last month.
Now, the company has returned with a new proposal to build 15 houses and then sell them off, so the project can move forward.
A report prepared for the company by Shand Building Design argued the new homes were a crucial part of the rehabilitation centre plans because the money from their sale would be ploughed into the latter venture.
It confirmed the houses would be sold to first-time buyers.
The document said: "The brief is straightforward to obtain planning for and sell off 15 house sites to enable the construction of a rehabilitation centre.
"Due to the scale of investment required on-site, Re-Nutherapy cannot install further infrastructure without some much-needed capital investment from the sale of proposed dwelling house sites.
"Re-Nutherapy is dedicated and enthusiastic to bring his project to fruition.
"It is our opinion that planning permission should be granted to allow them to reinvest proceeds from the sale of house sites which would benefit first-time buyers."