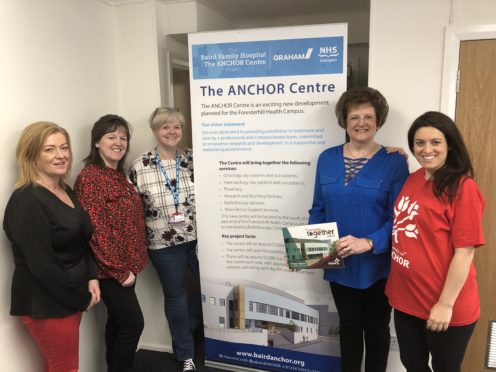 A group of friends from Fraserburgh have celebrated achieving a major fundraising milestone.
During the last 16 years, Tina Gibbins and her pals, Sandra Simpson and Val Esslemont have amassed an impressive £167,780 for cancer charity Friends of Anchor.
The enterprising trio have organised a variety of events with everything from fashion shows and race nights to raffles and exercise classes.
The group's recent donation of £8,000 follows their annual event at the Ban-Car Hotel in Lonmay.
The ladies have requested that the cash be ring fenced for the charity's £2million fundraising campaign Anchored Together.
The latter is aimed at helping in the creation of a new £32million cancer and haematology centre being built at the Foresterhill health campus in Aberdeen.
Mrs Gibbins was diagnosed with cervical cancer in 1999 and had to undergo a hysterectomy.
She said the group was determined to support a charity battling a disease that has touched their own lives.
Mrs Gibbins added: "It was great to hear all about the Anchor Centre and stand in front of the very site where the new facility will be in two years' time.
"We initially set out to raise £100,000 in ten years which was a proud milestone to reach back in 2013.
"We have been fundraising for Friends of Anchor for 16 years now and we are still as committed and passionate as ever to support this wonderful local charity.
"We have all been touched by cancer in some way and Friends of Anchor is a cause that is close to us all."
Mrs Gibbins has no plans to stop raising money for Friends of Anchor anytime soon and has also signed up for the charity's sky dive next month.
Sarah-Jane Hogg, the charity's fundraising and development director, said they were "honoured" and "grateful" for the group's support.
She said: "Their most recent donation will be a wonderful boost to our ambitious Anchored Together appeal to raise £2m for the new Anchor Centre."
The new centre is due to open its doors in 2021.