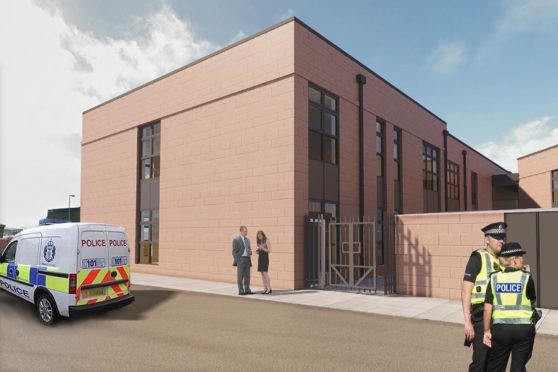 Plans have been approved for a new police station to be built in the biggest town in the north-east.
Work on the £1.5million two storey extension at Buchan House in Peterhead will begin next month after officials gave the move the go ahead.
The new facility will replace the Merchant Street base currently used by the force which was previously deemed "no longer fit for purpose."
Documents submitted alongside the plans by Aberdeen-based Robertson Construction Eastern show the new station would feature offices, locker rooms, toilets and a conference room.
Aberdeenshire Council is paying for the new space and it will be leased to the police service once it is completed next January.
The lower floor will be used by officers while the upper floor will provide shared facilities.
Last night councillor Norman Smith, chairman of the Buchan area committee, welcomed the moves to make the new police station a reality.
He said it was a "great opportunity" for the local authority and the force to work closer together.
Mr Smith said: "It is pleasing to see the project reach this stage and I look forward to work beginning on site soon.
"The extension provides a great opportunity for even closer working with our police colleagues and I am sure the people of Peterhead will welcome the increased presence at Buchan House."
Chief superintendent Campbell Thomson said the integration of services at Buchan House provided a "great opportunity."
He said: "This move is an exciting opportunity for Police Scotland to fully integrate services with Aberdeenshire Council, working collaboratively in our partnership approach to addressing local issues within local communities in Peterhead and indeed the Buchan corner."
Robertson Construction Eastern built Buchan House as part of a £5million project which was completed in 2015.
The St Peter Street provides a base for council staff after the local authority moved out of Arbuthnot House.
Gordon Milne, managing director of Robertson Construction Eastern, said he was pleased to be involved with the next phase of the building.
He said: "Over the past several years, Robertson has developed a close relationship with Aberdeenshire Council and this latest project cements our reputation as specialists in delivering bespoke builds for clients.
"As the original developer of Buchan House, we're excited to be part of the extension project that will bring much needed additional facilities and space for Aberdeenshire Council and Police Scotland."
The council said Buchan House would continue to function as normal during the "majority" of the upgrade work.