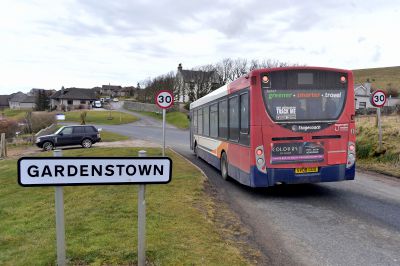 Campaigners in a north-east village have convinced the council to reverse its decision to axe their only weekend bus service.
More than 400 people in Gardenstown had signed a petition calling for the authority to keep the 273 Saturday route going.
And now it seems the campaign has been a success, with officials contacting activists to tell them the service would continue for another year.
There will, however, be pressure on the community to make greater use of a fresh review in 12 months' time.
The 273 was one of 29 services backed by Aberdeenshire Council that had been scheduled to cease on April 15.
The connection links the village with Banff and Fraserburgh and locals claimed it would have left the Moray Firth community without a bus service from 6pm on Friday until 8am on Monday.
A petition set up by residents was distributed throughout Gardenstown, gathering 427 signatures, and it was handed over to the council's transport chief Ewan Wallace last month.
A letter from Neil Stewart of the council's public transport unit has since confirmed a "small amount" of money has been found to keep it going.
Mr Stewart said: "I am pleased to confirm that a small amount of additional funding has been made available, permitting the Saturday timetable on Service 273 to be reinstated with effect from April 15 and will sustain until at least the end of the current financial year.
"The service, of course, will continue to be monitored and it is hoped that its performance will improve over the coming months."
Mr Stewart said Stagecoach would also increase the number of buses stopping in Gardenstown during the week.
The petition was launched By Gardenstown woman Nicky Thom with the support of the village's action committee secretary Andy Sturdy.
Mrs Thom and Mr Sturdy were not available for comment yesterday but Banffshire and Buchan Coast MSP Stewart Stevenson praised the activists for their efforts and welcomed the council's decision to continue the service
Mr Stevenson said: "This is very welcome news indeed and I'm delighted the council has taken on board the concerns that myself and local residents have expressed regarding the withdrawal of this service.
"A number of local residents approached me protesting that the axing of this service would result in the isolation of vulnerable residents.
"It would also seriously inconvenience the many tourists and visitors who rent summer properties in the village, for which Saturdays are a common 'changeover day'.
"Now the route has been secured for this financial year, I'm sure the community will demonstrate that it is indeed a valued and important service."