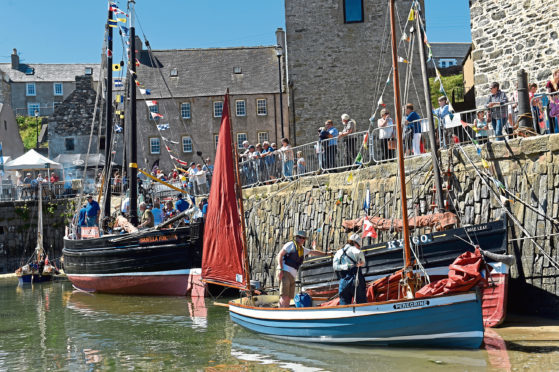 Stringent protections are to be put in place to preserve the character of an historic north-east town.
The centre of Portsoy has been designated as a conservation area since 1972 to maintain its 128 listed buildings.
The town also boasts a 17th century harbour – home to its internationally-renowned boat festival – and a Victorian railway station, built on the banks of Loch Soy in 1859.
Now Aberdeenshire Council want members of the Banff and Buchan area committee to back a fresh management plan for the conservation area and introduce additional controls.
A report to the committee sets out the need to preserve original architectural detailing and set standards for repair and enhancement works to preserve Portsoy's special character.
The conservation area designation already means anyone seeking to make improvements to historic homes – such as replacing doors, windows or roofs – must show the work will not be detrimental to the character of the town before they are approved.
But the local authority want to open that up to include repairs to any part of a property, their own developments, the laying of pipes and telecommunications developments.
As it currently stands, the so-called "article four direction" officials intend to amend is restricted to the construction of bus shelters.
The report claims the change will allow them to "better assess" the impact of any future developments.
It said: "The current article four direction is restricted solely to bus shelters, but the planning authority seeks to extend control to cover additional classes of development within the Portsoy Conservation Area.
"This will put additional restrictions on groups such as statutory undertakers, local authorities and telecommunication operatives as a means to bring their obligations more in line with those of the owners of domestic and non-domestic properties and provide consistency in decision making within the conservation area.
"This will act as an important tool in the future management of the Portsoy Conservation Area and allow the local authority to better assess the future impact of development."
Portsoy is one of 40 conservation area schemes across Aberdeenshire, with Stonehaven and Pennan among those with the designation.
Members of the Banff and Buchan area committee will discuss the report when they meet in Banff on Tuesday.