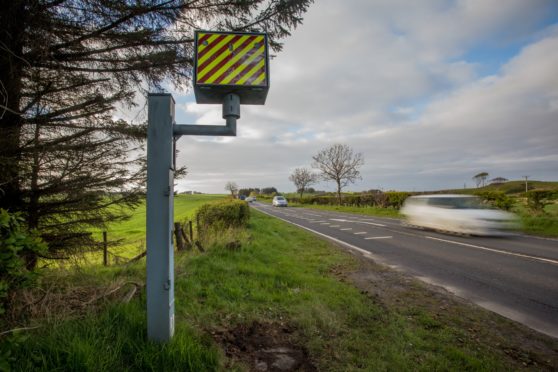 Safety chiefs have decided the once notorious A90 between Peterhead to Fraserburgh is now safe enough to do without its pioneering speed cameras.
The devices were introduced amidst much controversy 25 years ago in an effort to reduce the shocking number of serious accidents and deaths on the stretch.
In recent weeks, however, they have been covered-up and have now been removed entirely amidst claims they have contributed to a lasting change in driver behaviour.
Three of the machines near Philorth, Rathen and Crimond were "bagged" at the end of last year and over the last few weeks they have been permanently taken away.
A review by the North Camera Safety Unit ruled the devices "no longer met the criteria" for fixed speed enforcement because of a reduction in speed-related collisions and vehicle speeds.
Bosses said they were going to continue to monitor speeds along the route with mobile patrols instead of permanent speed cameras.
Permanent cameras were introduced on the A90 Peterhead to Fraserburgh road in 1994 after the road earned a reputation as a boy racers' track.
The so-called nine minute club was made up of young motorists who boasted of doing the 17-mile journey in just nine minutes – requiring an average speed of more than 100mph.
June Ross from Alford lost her son Ian Buchanan in a crash in 2010 and launched the Don't You Forget About Me support group to help other grieving families and friends.
She is worried that without permanent surveillance the race track mentality of the early 1990s may return.
Ms Ross said: "Obviously if the cameras are there and we all know about them, then you definitely watch your speed.
"My fear would be that taking them away means this stretch of road has the potential to go back to what it was.
"If the cameras are working then surely it is a no-brainer to keep them there."
Port councillor and chairman of the Fraserburgh and district safety group, Brian Topping, said he too was "surprised" the Gatso devices were being removed.
However he believes mobile patrols will continue to make a difference and said he has seen police officers already on the route.
Mr Topping said: "The fact that all three are not being replaced is something I'm a bit surprised about.
"But I have been quite encouraged to see that the police have been out on numerous occasions with their mobile unit.
"That is a lot better because with the static ones people tend to know where they are and slow down.
"With the mobile units you have to be careful for the whole journey."
Last night, a spokeswoman for the North Safety Camera Unit said the three cameras had been permanently removed due to reductions in collisions and driving speeds.
She said the devices near Philorth and Rathen and that at Crimond had been taken down and would not be replaced.
The spokeswoman added: "A review undertaken in 2018 review revealed that three fixed cameras on the A90 between Peterhead and Fraserburgh no longer met the criteria for fixed speed enforcement, due to a reduction in speed related collisions and vehicle speeds.
"The decision was thereafter made by the North Safety Camera Unit to mark the cameras as 'not of use' before removing them permanently.
"Although the fixed cameras, which were in situ for over 20 years, are no longer present, we will continue to monitor speeds along the A90 Fraserburgh to Peterhead route."
Vandalism
The speed cameras along the A90 Peterhead to Fraserburgh road have been a prime target for vandals in recent years.
Known as a Gatsos, they each cost up to £20,000 to install, but that hefty price tag has not stopped some trying to completely destroy them.
Last April, the device covering the route's northbound carriageway near Rathen was set on fire.
Only the swift intervention of firefighters saved it.
In 2015, vandals tried to burn down the same camera, targeting it in the early hours of the morning and leaving it bearing scorch marks.
Seven years ago the speed camera was set alight on the A90 near Lonmay, causing hundreds of pounds worth of damage.
In 2016, the Lonmay device was again the target of fire-raisers who wrapped a burning cable around the device, this time causing smoke damage.
Have your say