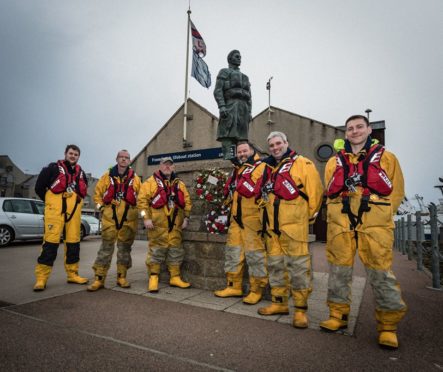 The centenary of a tragedy that resulted in the loss of two lifeboat heroes was marked in Fraserburgh yesterday.
On April 28, 1919, coxswain Andrew Noble and second coxswain Andrew Farquhar were killed after the lifeboat Lady Rothes capsized while it was responding to a mayday call in the north east.
The incident was the first tragedy to hit the port's lifeboat crew after it was established in 1831.
The vessel was launched to help the HM drifter, Eminent, which was going aground near Fraserburgh Bay.
As the Lady Rothes crossed the bay, she got knocked on her boom end and many of the 13 crew on board ended up in the water.
The ferocious swell drove the boat ashore and around 100 people were watching the drama unfold without realising the crew were actually trying to save themselves.
People pulled the men onto the beach with Mr Noble and Mr Farquhar dying shortly afterwards. It is not known what exactly caused the tragedy, but the men were the only members of the crew wearing full oilskins and it is thought that caused them difficulties while trying to swim to safety.
Yesterday, the current Fraserburgh lifeboat crew marked the 100 years since that fateful day with a poignant and simple ceremony.
Miriam Kemp from the Fraserburgh Fishermen's Mission and the honourable Kate Nicolson from the fundraising committee both spoke during the short service.
Wreaths were laid at the statue outside the Shore Street lifeboat station and in the water of Fraserburgh Bay to honour the men who went out to sea that day.
Lifeboat volunteers were joined by a small crowd to take part in a two-minute silence in tribute to the men.
Coxswain Vic Sutherland said the crew of 2019 were commemorating one of the "darkest days" in the port's maritime history.
He said: "Andrew Noble and Andrew Farquhar spent a lifetime at sea and knew full well the dangers.
"But yet they faced these dangers as mariners and helped those in trouble.
"Their willingness was to help in spite of the personal risk and these admirable qualities should be commemorated. We remember and salute their commitment and mourn their loss to their families and descendants."
In addition to the 1919 disaster, Fraserburgh lifeboat has been blighted by two other tragedies.
In 1953, six men died when their lifeboat capsized in heavy seas near the harbour and in 1970, five crew perished when it was caught up in a swell and capsized.