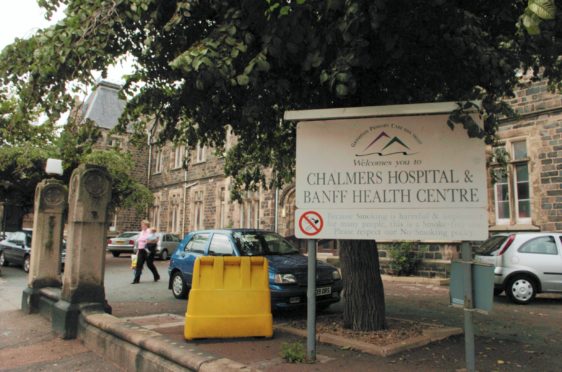 A retired GP who worked in Banff for more than two decades has raised fresh fears about the future of the town's hospital.
The Aberdeenshire Health and Social Care Partnership (AHSCP) has been looking at the future of Chalmers Hospital in Banff, as well as that of eight minor injury units (MIU).
The outcome of their review is due to be made public at a consultation event being held in the town today.
Officials have said the process will not lead to the closure of the facility, but there are concerns opening hours could be cut.
Now Dr Janet Anderson has entered the debate and shared concerns the hospital's casualty unit could be closed in a move she has branded "ill-thought-out and dangerous".
Safety group voice concerns about possible changes to Chalmers Hospital
Dr Anderson worked in the town as a general practitioner before retiring a decade ago and is now chairwoman of the Friends of Chalmers Hospital charity.
She said any bid to scrap the emergency ward could have potentially "fatal" consequences.
Dr Anderson said: "The integrated joint board is now recommending that the existing purpose-built and well equipped casualty unit should be downgraded to a MIU.
"This is a potentially life-threatening and otherwise ill-considered proposal.
"If this proposal were to be implemented, medical emergencies and trauma patients presenting at what would have become the MIU at Chalmers Hospital could, quite simply, not be treated there and would have to be turned away, presumably with the advice that they get themselves, by whatever means, to the nearest accident and emergency department at Dr Gray's in Elgin or even worse that they dial 999 in the hope of ambulance transport to Elgin or Aberdeen.
"Either way, the delay and trauma of the journey without any treatment could well prove fatal."
She urged people living in Banff and the surrounding area to take part in the public consultation event.
Dr Anderson said: "My urgent appeal to them is that they take advantage of this opportunity to ensure this ill-thought-out and dangerous proposal is swiftly abandoned."
The AHSCP held a series of public consultations on MIUs last year, finding that they were generally held in "high regard" and that the demand in Banff peaked during daytime hours, reducing in the evening and with minimal use at night.
A spokeswoman for AHSCP said their local implementation group is now ready to present the "best, safest and most sustainable" way forward for the MIU.
Their preferred option for Chalmers Hospital will be unveiled at an event at the Harvest Centre in Banff today between 3pm and 7pm.