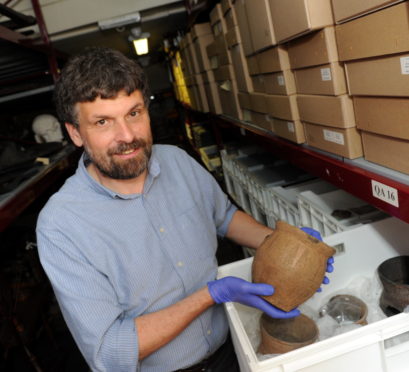 In 1980, during an archaeological dig five miles outside of Gardenstown, a 4,000-year-old clay pot was unearthed.
It is believed the clay pot belonged to the Beaker People who migrated to the UK  around 4,500 years ago, spreading right to the north-east in a time before the Celts, Gaels and Romans.
It is now part of the collections at Aberdeen University, but will be returning to the village later this month to mark 40 years since its discovery.
It was during a dig at Chapelden in the Tore of Troup, five miles from Gardenstown, that the remarkable item was carefully lifted from the ground, completely intact.
The vast majority of the 4,000-year-old patterned pots found alongside it were in fragments, but the stunningly preserved Troup Beaker has helped archaeologists and historians piece together more of the history of the Beaker People.
Research indicates that between 2500 and 2000BC, within what is now Britain, a wave of fair-skinned and distinctively round-headed immigrants arrived in the north-east.
These people were buried with their recognisable beaker pottery and are also thought to have introduced metal-working for the first time.
Beaker People are also believed to be the ones who built the region's stone circles.
Accompanying the beaker back to Gardenstown will be Neil Curtis, head of museums and special collections at Aberdeen University.
He will also bring along as election of other prehistoric items from the collections and will be hosting an audio-visual presentation about the Troup Beaker.
Phil Lawson, secretary of the Gardenstown Community Hub Association, is excited to welcome the beaker back to where it was discovered.
He said: "We are delighted to be hosting such a unique event, made even more special as the story behind the beaker will be delivered by a speaker of Mr Curtis' immense knowledge and experience in the field.
"The Troup Beaker itself is a vessel of great antiquity and importance to this area and to have it return even for a short time is an exciting event.
"The story behind the beaker, which will cover our ancestors' vast migration to north-east Scotland, promises to be every bit as fascinating especially in light of modern scientific information."
The presentation will take place at the Gardenstown Community Hub on May 31.
Doors open at 7pm, with the talk beginning at 7.30pm. It will be followed by a question and answer session and refreshments. Entry is by donation of £2.