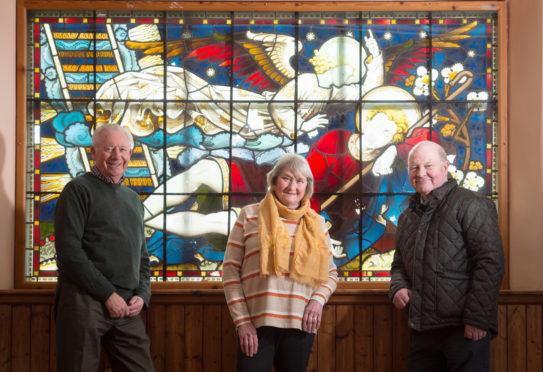 A stained glass window which has looked down on a north-east hall for 100 years has been removed so it can be repaired.
The colourful glass depiction of Jacob's Ladder from the Old Testament was installed in Forglen Hall  when the building was erected in 1924.
But, after years as a solo pane, it suffered substantial damage and although internal and external windows were added to give it protection, the harm had already been done.
Now, after fundraising for its restoration, members of Alvah and Forglen Community Council and the caretakers, Friends of Forglen Hall, have waved the panes off to be repaired.
They looked on as the stained glass was removed from the hall's wall yesterday for the first time since it was installed.
Funding from Historic Environment Scotland and Strath of Brydock Windfarm has given the groups the chance to have the window fixed by stained glass artist and conservator Linda Cannon at her studio in Glasgow.
Spearheading the repair project has been community council secretary Jim Bayne, who admitted she'd been nervous about the removal day.
Mr Bayne said: "It's been a successful day as you never know just what will happen with something that's 100 years-old when you try to move it.
"Thankfully it all went wonderfully.
"It took us a short while to figure out the best way to get the window out. We ended up lifting out the back pane of glass and taking the panel out the back way into the car park.
"After it was down they went about splitting the stained glass into four sections as it was assembled originally.
"It was nerve wracking to watch but clearly it was in very capable hands.
"We thought that as they were so old there might be problems or they might even break but they're incredibly strong and well made."
The window will be away for around three months and it's hoped it will be reinstated at the end of August or early September.
In the meantime, the group are searching for the window's long-lost sister – the Chess Players.
When researching their Jacob's Ladder window, the group found it was created by the manufacturer Clayton and Bell and was originally installed at Ardmiddle House in Forglen in 1868.
The house changed hands many times over the years until, in 1924, it was bought by Robert Collier Caw, who is thought to have been a tea plantation owner in India.
He auctioned off the contents and donated one of the windows to Forglen Hall.
It is not known where the second, the Chess Players – depicting the Moritz Retzsch drawing of the devil playing for the losers soul – ended up.
Anyone with information on its whereabouts should contact the community council by emailing secretary.alvahforglencc@gmail.com.