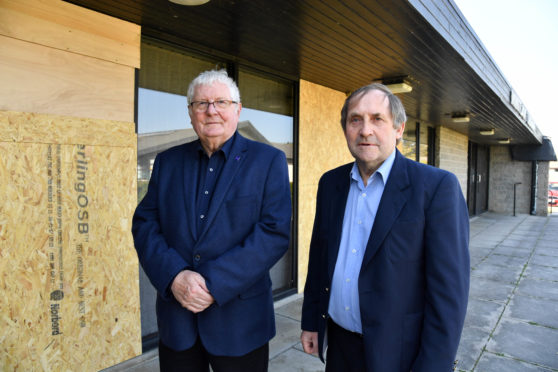 Police are hunting vandals who have attacked Mintlaw Library three times in as many weeks.
Various windows at the council-run building have been boarded-up since April when they were first targeted.
Dismayed staff first arrived to find panes at the Newlands Road library broken on April 9, forcing the local authority to take action to secure the building.
Ten days ago, however, vandals returned to damage more windows and on Tuesday night came reports of a third attack.
It is believed those responsible also targeted the nearby Pitfour Primary School.
Local councillors have been left furious by the repeated assaults on the library and the costly repairs.
Central Buchan councillor Norman Smith said he was finding the incidents "frustrating".
"It's happening time and again," he said.
"The windows are all boarded up and then, once they're replaced, its mere days until something happens again.
"The week before last, I think, some of the windows were smashed and on the morning they came to replace them the one next to it was also found to have been smashed.
"It's terrible. It's disgusting for the village in this day and age that unwanted vandalism is still going on. It can't be tolerated.
"At a time when money is scarce for the council it's really not good they keep having to pay to replace windows.
"I think everyone needs to be taking more responsibility for their actions."
Councillor Jim Ingram has also been concerned by the number of times the vandals have attacked the library.
He said: "It's only a handful of individuals but they're causing more than a handful of damage.
"I think the police have ideas about who it could be and there is CCTV in the area so I hope the they can take action as it's a waste of money, it's inconvenient and it's just down right mischievous.
"We did have a few incidents a while back which eventually came to a halt. It's disappointing to see this happening again."
A spokesman for Aberdeenshire Council said: "Mintlaw Library has been targeted by vandals for a number of weeks and we would ask anyone with information to contact police as soon as possible."
A spokeswoman for the police said: "Officers have been made aware of vandalism to Mintlaw Library and inquiries are ongoing.
"Anyone with information is asked to call us on 101."
Information can also be passed anonymously to Crimestoppers on 0800 555111.