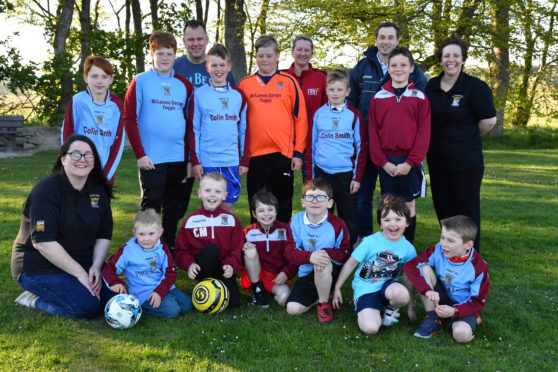 A north-east sports club which provides classes for hundreds of youngsters has warned that it could close unless more volunteers step forward to help with coaching.
Since 2007, St Marnans Sports Club has run regular events for primary school children in Aberchirder and the surrounding area during term time.
It offers members the chance to get to play football, basketball and badminton, and practise energetic street dance routines.
But the group's efforts could grind to halt unless organisers can find more trainers to get involved.
The poster for the club's annual general meeting this week carried a stark warning about its future, telling attendees that "the survival of this club depends on you".
Chairwoman Fiona Calder said a lack of coaches is St Marnans' "biggest problem" and urged more villagers to sign up to prevent the risk of children being "left with nothing to do" if it folds.
Mrs Calder said: "The biggest problem is we have not got a lot of coaches.  We are trying to get some coaches in.
"The kids need this because they would just get bored without it.
"We would welcome anyone who can help us out and potentially offer new activities as well.
"We are still finding our feet and could even branch out with walking football or a youth club."
St Marnans has recently appointed new officer-bearers in its effort to secure a healthy future for the group.
The club hires the hall at Aberchirder Primary School from the council and uses the village's McRobert Park for weekly events.
The community organisation has its own children's five-a-side football competition which takes place at the village gala every summer and is also involved in other fundraising events.
The club will pay for the necessary training so that volunteers can meet the requirements to coach football or any other sports.
St Marnans is also looking to attract new committee members who would be required to attend at least six meetings every year.
Anyone interested in taking part is asked to contact the club on smsc-foggie@outlook.com