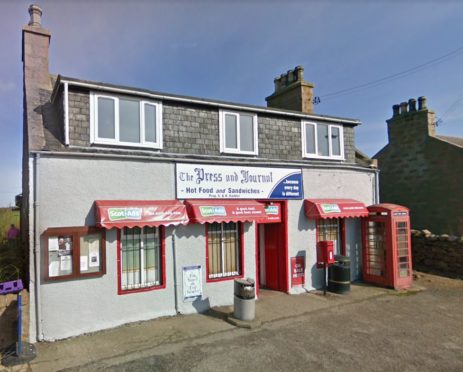 A north-east newsagent fears he may have to close the doors of his decades-old business because freshly painted road markings may deter potential customers.
Henry Hadden, 60, runs the shop at Longhaven with his wife Susan which sits next to the busy A90 Peterhead to Aberdeen road.
The couple have been involved with the store for 27 years and rely on passing lorries, vans, buses and other motorists for trade.
Mr and Mrs Hadden's newsagent sits in a slip road in Longhaven just a stone's throw from one of the region's key transport links.
However, they are worried the latest addition on the road directly outside the shop door may lead to customers avoiding the shop.
A new yellow box has been painted to highlight the bus stop next to the newsagent and Mr Hadden fears the bright markings will deter potential customers using his business.
The bus stop has been at the site for a number of years and is used by the Stagecoach Buchan Express service.
But Mr Hadden thinks the sight of the bright yellow markings will lead to fewer drivers stopping for newspapers, snacks or drinks.
He said: "I've never seen the lines the way they are now.
The bus stop has been here for a long time and the only markings on the road were the words 'bus stop' painted in white on the tar.
"The lorry drivers won't stop because the police may come and enforce the restrictions if they wanted to.
"It is going to have a real adverse impact on the business as it will cut the passing trade we rely on.
"If there is no passing trade, there is no shop.  It is as simple as that."
Last night, a spokesman for road maintenance firm Bear Scotland said the new markings were painted as part of an upgrade along the A90 Peterhead to Aberdeen road.
He said the lines were renewed because buses were unable to stop safely due to other vehicles.
The spokesman said: "Work was carried out as part of an overall programme to refresh road markings on the A90 and this bus stop was refreshed on behalf of the local authority to update pre-existing road markings at a bus stop in Longhaven (A90) which had faded over time.
"Prior markings were no longer visible which resulted in buses not being able to stop in a safe place due to parked vehicles.
"A Bear representative visited the site to confirm the current condition of the bus stop markings on May 2 and spoke to shopkeepers to advise of these works as well as proposed future footway improvements."