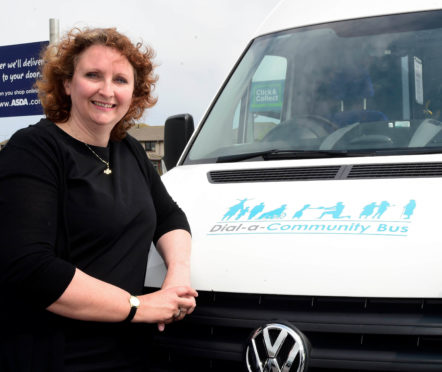 An employment tribunal has heard that a woman accused of laundering money from a north-east charity was "stressed" due to a heavy workload.
Rachel Milne yesterday said that she felt she might suffer a stroke due to demands of her job with Buchan Dial-a-Bus.
The charity delivers a range of community transport services throughout parts of Aberdeenshire for those who are elderly, disabled or socially isolated.
Mrs Milne has launched legal action claiming she was unfairly dismissed by the Maud-based charity last May after she was accused of laundering money by the organisation's chairman, Spencer Critten.
She claims that her decision to authorise the transfer of £10,000 out of the charity's account and into that of DAB Plus, an arms-length social enterprise which runs transport contracts for both Aberdeen City and Aberdeenshire councils, was made to "safeguard" the organisation.
Yesterday the 50-year-old maintained that the loan had been "approved and agreed".
She said: "We needed this amount of money to keep the traffic commissioner happy. One way or another, we needed to make it happen.
"I ran it past the accountant and made sure this was done legally and appropriately."
During an investigation into her conduct, Mrs Milne stood down from trustee work with the Community Transport Association and School for Social Entreupteurs, work she had conducted alongside Dial-A-Bus responsibilities.
The 50-year-old, who was the transport charity's general manager until her dismissal, explained that taking on such extra duties had an impact on her health.
She said: "I had to have blood pressure tablets doubled and had to make some decisions in my life – it was either that or have a stroke."
Isabel Buckle, who was representing Dial-a-Bus, told the hearing that Mrs Milne had logged both overtime and lieu time without emailing to check with senior management.
She did not ask before claiming overtime on three different occasions since 2012, and took 268 hours of lieu time between January 2017 and March last year.
Ms Buckle asked: "Did you just do as you pleased?"
Mrs Milne said: "I wouldn't need to organise it, I'd just take it.
"The board told me to manage my time appropriately, and get on with it.
"I forgot to email due to workload and stress, it was an error on my part not to do that."
The employment tribunal, before Judge Sandy Kemp, continues.