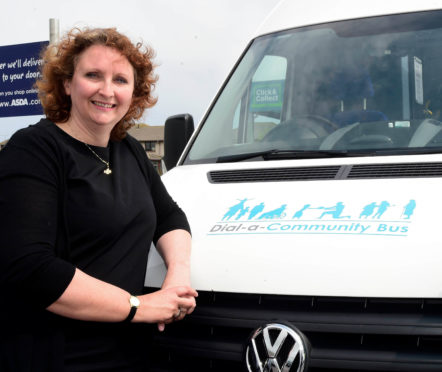 A former charity manager has told an employment tribunal that she was so intimidated by her boss she would avoid speaking to him.
Lawyers representing Rachel Milne revealed that she is seeking £30,000 in compensation from Buchan-Dial-a-Bus as her unfair dismissal hearing drew to a close yesterday.
She was sacked from the Maud-based charity last April amid accusations that she had laundered £10,000 from the organisation and took time off without asking.
Earlier in the week, a colleague of the claimant had described the "bullying" behaviour of charity chairman, Spencer Critten, and backed Mrs Milne's claims that working for the charity had left her so stressed she was risking her health.
Mrs Milne reluctantly spoke of her working relationship with Mr Critten yesterday, after questioning from the charity's lawyer Ysabelle Buckle.
Ms Buckle questioned why the "strong" allegation of bullying had not been brought up in her first disciplinary hearing or at a subsequent appeal.
Mrs Milne said: "I did bring it up at the first suspension meeting. I did not want to bring it up in a public forum, but I have now been forced to.
"Mr Critten would often, publicly or at meetings, say I was no good at figures and that I shouldn't be preparing them.
"He was very good at driving me down and talking over me. I would avoid speaking to him – I couldn't handle his attitude and behaviour.
"I sought coaching on this and had to conclude that the problem was not me."
The 50-year-old, who was transport manager for the charity for almost 20 years until her dismissal, is fighting allegations that she had made an unauthorised transfer of £10,000 from the charity's account into one for DAB Plus, an arms-length social enterprise also managed by Mrs Milne.
The tribunal heard that the money was needed to show that DAB Plus had financial viability, as per regulations set out by the Traffic Commissioner, in order to apply for a contract extension for an Aberdeen City Council service.
Mrs Milne said the transfer had been agreed at a board meeting last March.
Mrs Milne's solicitor, David Burnside said he could "hear the sounds of barrels being scraped" when first looking at the charity's case against Mrs Milne.
He added: "The whole thing is deeply flawed.
"Wild claims of money laundering have been made.
"Mrs Milne is not some criminal mastermind – the £10,000 was purely an in and out transaction. She did not personally benefit from this.
"She genuinely believed that she had the board's authorisation to make the transfer and has never denied asking the accounts clerk to do it."
The tribunal read emails sent around the time of the £10,000 transfer in which Mr Critten stated that it should not go ahead.
Mr Burnside said: "If he genuinely believed there was a problem, he should have stopped it but he did not."
Employment judge, Sandy Kemp, said he would consider the evidence and give his decision in a few weeks time.