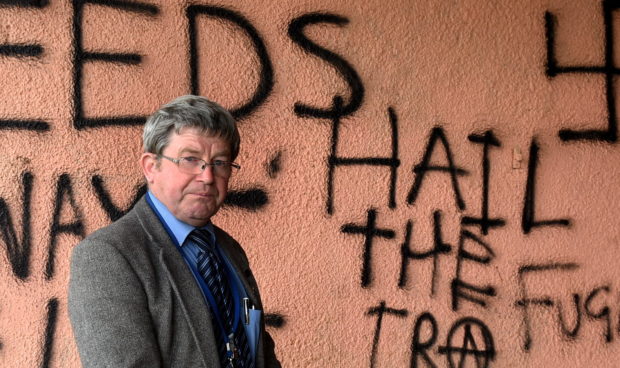 Vandals have spray-painted Nazi and IRA slogans on the walls of a building at the Haughs – just weeks before the Turriff Show.
Emblazoned across the pink walls of the pavilion in black paint are a range of unpleasant slogans, rude drawings, named jibes, drug promotions and swastikas.
It is thought the worst of the graffiti appeared over the weekend and its nature has shocked and dismayed locals.
Last year, the Haughs Redevelopment Partnership – composed of councillors, local authority officers and community representatives – was created to improve the area.
The grounds are used for various community events, including the famous two-day Turriff Show.
It takes place in six weeks and often uses the pavilion as a venue for bands and orchestras.
Show president Graeme Mackie said the Turriff District Agricultural Association was "saddened" to see the vandalism that has appeared.
He said: "It is frustrating for all involved in the Haughs Redevelopment Partnership and the wider Turriff community who are working hard to improve facilities at the Den."
The partnership released pictures of the graffiti on Facebook, prompting a wave of outrage from locals.
Katie Chapman commented: "That's is disgusting, young ones have no respect now a days and it's a shame."
James Parker also commented, saying: "I saw this while out running early yesterday morning and was absolutely disgusted."
Several of the comments asked whether the names sprayed on the walls had any relevance to the possible culprits.
The partnership replied: "Graffiti has always been a problem on the walls of the old Den Shop but a week after the anniversary of D-Day to see this type of graffiti is disgusting.
"If those named on the walls are daft enough to paint their own names then we would welcome them with open arms to come forward and cover over what they have done as no one else wants to read it."
Chairman of the town's community council, Mike Rawlins, believes the controversial slogans painted are not reflective of the culprit's actual views.
He said: "Seeing graffiti appearing around Turriff is always disappointing and the nature of the graffiti that appeared over the weekend is concerning.
"I would like to think that what was written was done to try and shock the community rather than out of any real understanding or belief."
A spokeswoman for Aberdeenshire Council confirmed that landscape services would repaint the pavilion and look at preventative measures to deter future vandalism.
Local councillor Iain Taylor said he too had been angered by what has been written and the unnecessary cost to the council – which owns the building – and the partnership.
He said: "To say it's disappointing is a vast understatement. Any type of graffiti is awful but this type beggar's belief.
"So much of the Turriff community are prepared to help out but this is obviously an extra cost so it's very frustrating."
Scottish Conservative MP David Duguid is from Turriff.
He regularly attends events at the Haughs with his family and supports the partnership's work.
Mr Duguid said: "It has a special place in my heart and I'm glad of people like the redevelopment partnership taking care of it for future generations.
"So I was sickened to see that place debased by such vulgar and distasteful graffiti."
Aberdeenshire East MSP Gillian Martin was also "appalled" by the vandalism.
She said: "It is disappointing that anyone would set out to cause damage like this and I would urge anyone who may have seen anything suspicious to report it."
A spokeswoman for Aberdeenshire Council said: "It is very disappointing that the pavilion has been vandalised.
"So many community groups are working with the council and other partners to make the Haughs a welcoming space, accessible to all, that encourages activity and wellbeing as well as an attractive and bio-diverse green space.
"This type of vandalism is unwelcome.
"Our landscape colleagues will be repainting the pavilion and we will be looking at preventative measures to try and stop future vandalism."
Police confirmed the incident had not been reported to them but encouraged anyone with information to call them on 101.
Information can also be passed anonymously to Crimestoppers on 0800 555 111.