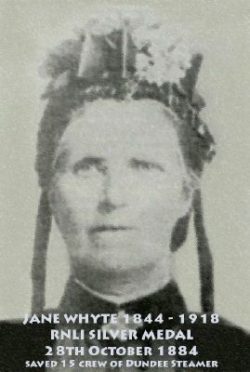 The story of a mother-of-nine who saved the lives of 15 stranded sailors off the north-east coast is being told in a new exhibition.
Jane Whyte waded into the chilly waters near New Aberdour after spotting the steamer William Hope drifting dangerously towards rocks in October 1884.
The Dundee ship had suffered engine failure and Mrs Whyte had managed to throw a rope to the crew to help them reach safety.
She was given the RNLI silver medal and £10 for her bravery.
Mrs Whyte and her legacy were celebrated last summer when new information boards were introduced near what was once her beach cottage.
Now the dramatic tale of the maritime rescue and its central character will be retold in a new showcase at the Museum of Scottish Lighthouses in Fraserburgh.
Mrs Whyte's relatives have given a number of items, including her medal, to the museum for their new display.
Museum manager Lynda McGuigan said the time was right for this Aberdeenshire heroine to have her story told through her own personal belongings.
She said: "We've got the RNLI medal, the certificate, her teapot and a brooch.
"They've been donated to the museum by members of her family and we are very pleased to have them so we can celebrate this remarkable woman.
"We thought it was about time people heard more about Jane's story."
Last weekend, two of Mrs Whyte's descendants from Canada came to the north-east to visit the exhibition and the beach where the rescue took place.
Brayden and Logan Heck, her great-great-great grandsons have been touring Europe and the sands of New Aberdour was one of their last stops before heading home.
Mrs Whyte's great-great grandson Robbie Kelman has been heavily involved with commemorating his relative's actions and is writing a musical around the events of October 28, 1884.
He said: "She's known as the Grace Darling of the North, and it is important we tell her story."
The exhibition opens at the Museum of Scottish Lighthouses in Fraserburgh on Sunday June 30.