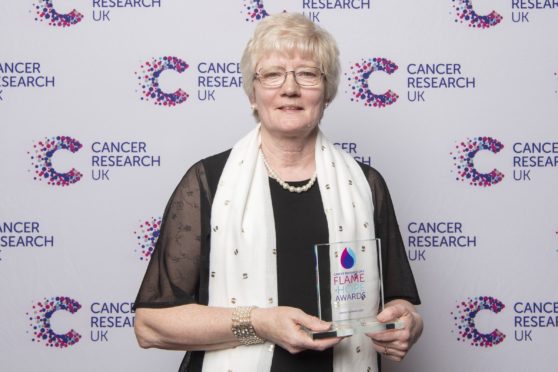 A north-east woman who lost her mum, sister, niece and aunties to cancer has received a national award for her volunteering.
Nancy Collie was named a Cancer Research UK Honorary Fellow in celebration of her loyalty and dedication to the charity over the last 30 years.
She was presented with the award at the Flame of Hope Awards ceremony in London, which acknowledges remarkable fundraising efforts and volunteering.
Mrs Collie has been volunteering in the Fraserburgh charity shop since it opened in 1990.
The 67-year-old, from Rosehearty, who is determined to protect families from the same pain her own has been through, said: "I love working in the Cancer Research UK shop and many of the staff have become great friends over the years.
"If by helping at the shop till and fundraising I can fund vital research into cancer which will help people going through it right now and help the next generation then it's worth it."
Mrs Collie's mum Rosie Ewen died from ovarian cancer in May 1976 after a year-long fight, just months before her granddaughter was born.
Both of Mrs Ewen's sisters, Bunty Middler and Gladys Massie also died of the disease in their 40s in 1970 ad 1978 respectively.
Then in 1991, Mrs Collie's sister Rosie Borthwick was diagnosed with breast cancer and died aged 40.
It was then found that the women in her family had the BRCA1 gene which increases the likelihood of developing certain cancers.
Mrs Collie has since had yearly scans after testing positive for the gene but, thankfully, remains clear of cancer.
But in 1999, the family were again struck by tragedy when her niece Angela Ewen died from leukaemia, aged just 13.
Mrs Collie, who is married to Graham and has two children, said: "I don't want any other family to go through what our family has faced.
"My own mum was only 44 when she died from cancer.
"She was so young and I feel sad when I think of the many special family moments she didn't live long enough to be there for.
"My sister then died aged 40 from cancer and is missed so much by all our family."