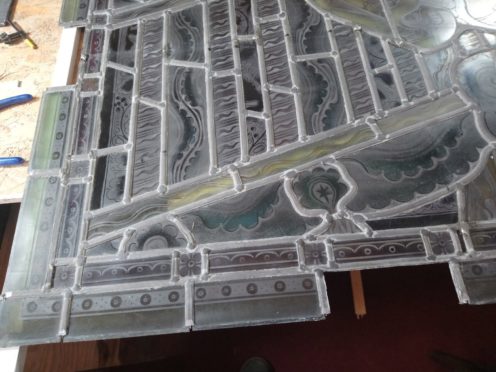 A biblical stained glass window removed from a north-east village hall after almost 100 years there has been undergoing a painstaking restoration process.
Forglen Hall's colourful glass depiction of Jacob's Ladder, from the Old Testament, became part of the building when it was constructed in 1924.
But the window suffered significant damage over the decades, with worn patches and missing decoration such as on the faces and hands of the characters featured.
Hall users including members of Alvah and Forglen Community Council and the caretakers, Friends of Forglen Hall, dedicated their time to researching the window and gathering the money required to have it refurbished.
Now, thanks to funding from Historic Environment Scotland and Strath of Brydock Windfarm, the four panels of the decorative window have been shipped to Glasgow where they are being brought back to their former glory by stained glass artist and conservator Linda Cannon.
Mrs Cannon started with tests using microscopes and kilns to find the perfect colours for some of the missing patches last month.
Having found the right shades of stain for the more unusual parts, she ordered the right paints and sheets of glass and finished the first pane last week.
Now she is tackling the bordering glass, experimenting with various yellow shades to find a matching tone.
She said: "This week I've been working on the second panel, but have painted the borders for the remaining three panels.
"I hope to begin to work on each piece of broken glass on the inside of the panel, piece by piece, next week."
When research was carried out on the Jacob's Ladder glass, it was found that it was created by well-known manufacturers Clayton and Bell to be installed in Ardmiddle House in Forglen in 1868.
The house was then passed to various new owners before someone auctioned off everything in it and the window was donated to Forglen Hall – which was being built at the time.
Community council secretary, Jim Bayne, was one of the driving forces behind the project.
He said: "This is very complex so thank goodness we have got Linda – she is on a roll.
"The first of the four panels has now been completed and it would appear that the window was exceptionally well made and very robust."
It is hoped the window will be reinstated at the end of August or early September.