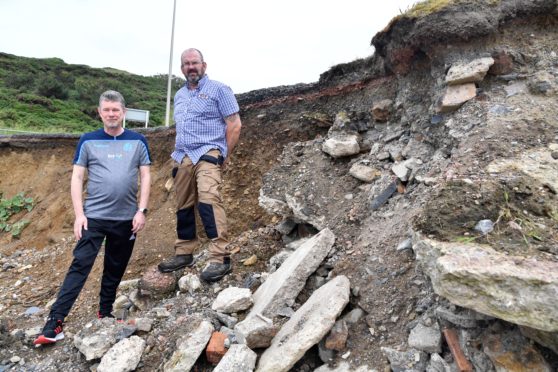 Fears have been expressed about the way in which parts of the north-east coast are starting to disintegrate.
For years, there have been concerns about erosion in Banff and Macduff, particularly at the River Deveron mouth to Banff Bay.
But a bigger stretch of the Palmer Cove area on the Macduff side of Banff Bridge, cordoned off to the public for more than three years, reportedly broke away this week.
Local councillor Ross Cassie is concerned that the A98 Macduff to Banff road could soon become affected by the gradual destruction from the sea.
He said: "I pointed out a number of years ago that, if there is undermining of the road, there could be damage to the A98.
"There does need to be more than just the monitoring of it.
"Doing that is all well and good, but when it gets to the point it will impact the public because the road, which is the only road, could be closed off, then monitoring will no longer be appropriate and action needs to be taken."
Aberdeenshire Council officers have recently been assessing the erosion on the Banff and Macduff sides of the river mouth due to the concerns.
They have assured councillor Mark Findlater that the road will remain unaffected.
He said: "Before Storm Frank, a huge chunk came away and left Palmer Cove unsafe.
"At the time it was closed off, we raised concerns for the A98 and have been in conversation with officers ever since.
"But they have assured me there is no danger to the road.
"We are all keeping an eye on it, though."
Banff councillor John Cox has been vocal about the hazards of the coastal erosion in his ward and raised his fear that the problem is only escalating.
He said: "Palmer Cove was once a popular recreational area and I'm concerned more erosion in that area could present a danger as it does protect the road from the waves.
"We're aware of how much the sea can come on to the road and I'm worried some big waves that pick up stones could present a problem.
"I don't have the solution, but there must be something to stop the erosion."
An Aberdeenshire Council spokesman confirmed that engineers would continue to monitor the area and "act appropriately" on any changes.
He said: "Engineers continue to investigate erosion-related issues around Greenbanks along with regular inspections of the foundation protection at Banff Bridge."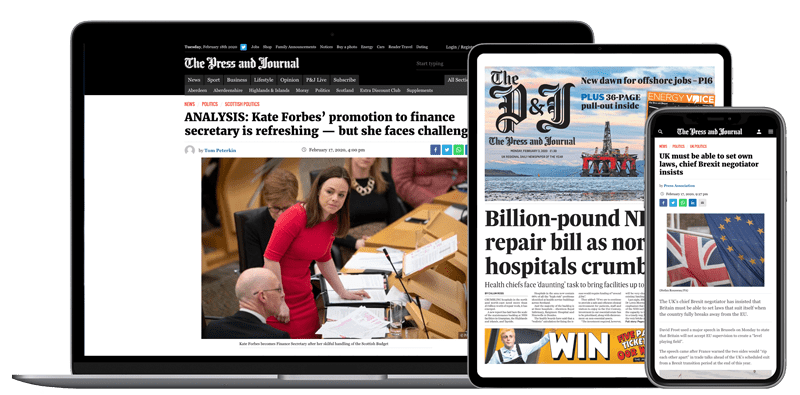 Help support quality local journalism … become a digital subscriber to The Press and Journal
For as little as £5.99 a month you can access all of our content, including Premium articles.
Subscribe