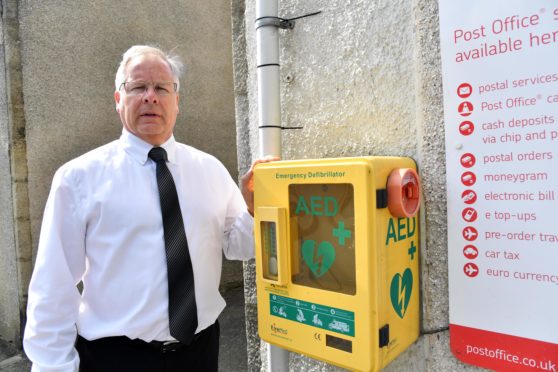 A teenager has been charged with vandalism after a defibrillator paid for by firefighters after two years of fundraising was destroyed in a north-east village.
Police issued an appeal for witnesses at the weekend after the casing around the life-saving device was smashed, allowing water to get in and damage it.
Officers have now confirmed that a 15-year-old boy has been charged with the alleged vandalism of the box at Aberchirder Pharmacy, on Main Street.
Banff and District councillor John Cox last night welcomed the quick police response.
He said: "Someone has been charged and I hope this can serve as a lesson to everyone on how fast the police act when they have the strength of a community behind them."
His fellow ward member, Glen Reynolds, said he hoped the arrest would dissuade from thinking they could "get away with" vandalism.
Councillor Reynolds said: "Damaging this life-saving equipment is gross stupidity.
"I'm grateful that the local community assisted in bringing us to this point.
"Thanks, as always, are extended to the police and all involved in taking speedy action."
Defibrillators can be used if a person has gone into cardiac arrest or their heart has stopped.
Many of the machines are registered with the ambulance service, to be used in an emergency.
A spokesman for the ambulance service said: "Public access defibrillators are potentially life-saving devices which are located across the country.
"A patient's chance of survival drops by around 10% per minute without intervention.
"The most important interventions are early CPR and defibrillation, which can have the potential to improve survival."
The damage happened between 8pm-9pm on Saturday.
Aberchirder firefighters own the machine, having purchased it after two years of fundraising along with local groups.
The defibrillator, which was installed on the wall to the side of the pharmacy in May 2017, has been repaired and will be returned to its casing in the near future.
PC Lauren Chapman, who led inquiries into the vandalism, said: "The defibrillator has been repaired and will be returned to the pharmacy in due course.
"We are grateful to members of the public who have supported us while inquiries were carried out."
The 15-year-old boy will be reported to the youth justice management unit.