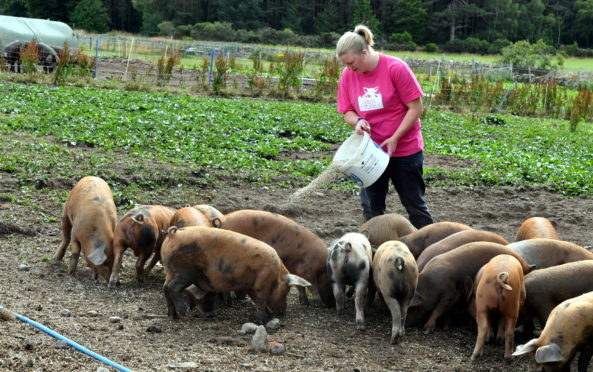 Organisers of the north-east's biggest agricultural show are promising visitors a taste of something new this year.
The Turriff Show returns next month, with thousands of people expected to descend on the Haughs for the two-day event.
Last month, organisers revealed they had invested £70,000 to showcase local produce in a special pavilion.
The committee hopes the market will bring fresh faces to the showground, from food lovers to producers themselves.
Sarah Mackie, from the organising committee and a farmer herself, is looking forward to seeing how the new pavilion goes down.
She said: "We have a superb range of producers coming to the show and I just want the general public to come and visit.
"They will be wowed by them, be impressed by what is available locally and understand the fantastic farming and food businesses that the north-east has."
Gilli Allingham, from the Really Garlicky Company – the only commercial garlic grower in Scotland – is among the producers taking part.
Along with husband Glen, the pair first grew garlic on a quarter of an acre at Craggie Farm, near Nairn, as part of a trial with the Scottish Agricultural College 20 years ago.
After the crop diversification trial ended, the couple decided to keep going and, using Mrs Allingham's skills as a cordon bleu chef who trained at Pru Leith's Cook School, they launched a range of garlicky products.
Mrs Allingham said attending the Turriff Show seemed a fitting way to mark their 20th anniversary and welcomed the "boost" of the pavilion.
The company sells a range of garlic products such as butter, oil, bread and relish.
Mrs Allingham added: "The Really Garlicky Company has grown from that quarter of an acre and now we will harvest 20 acres this year, just in time for Turriff Show.
"The people in Aberdeenshire will be the first to try the new season garlic.
"Turriff Show is fantastic – that's one of the reasons we're coming back as there's such a huge focus on local food, and although we're not local to Turriff but we're very close.
"We've a really lovely following of people and want to be at Turriff for the food boost as we know people will turn out for the traditional farming event."
Along with the new food and drink pavilion, suppliers are keen to get involved with the ever-expanding show.
Louise's Farm Kitchen – a family farm turned business at Milton of Auchinhove, Lumphanan, Banchory – is heading along for the first time.
It all started for owner Louise Urquhart and her husband Ahren when she did a hog roast for her 30th birthday.
Following the success, the couple got a few sows and started giving meat boxes to their friends and family before one suggested they start a business.
Now, with demand for local meat growing, it has been booming for the last two years.
For their debut at Turriff, Louise's Farm Kitchen will be offering hand-reared pork products and a few other treats.
Mrs Urquhart said: "This is the first year we're going to be part of Turriff Show as we're quite a new business.
"I'm looking forward to be part to be involved with the pavilion.
"Turriff is one of the best shows and it's always the one you get to catch up with people and is such a social event too."
The couple have a flock of breeding sheep, predominantly Scotch Mules and Cheviots, a small pedigree herd of Simmental cattle and their outdoor pig herd of Saddleback sows and a Mangalista boar.
Mrs Urquhart added: "We're definitely excited for the show as we're bringing along new season lamb with us as it's ready at that time of year.
"From a hog roast for my birthday it really has snowballed and grown from there so to be part of the show will be great."
Tickets for the show, which runs on August 4 and 5, are available by visiting www.turriffshow.org