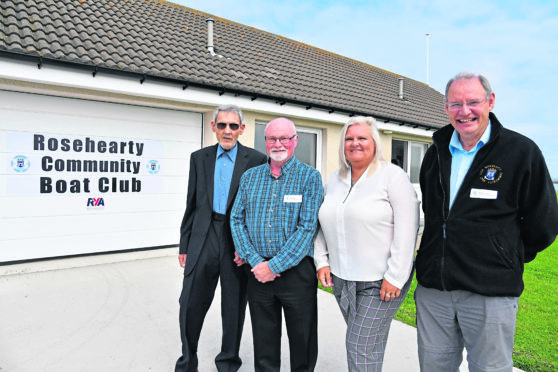 A new north-east boating clubhouse has officially been opened, but only after five years of work and a £100,000 investment.
The ribbon was cut at the new base for Rosehearty Sailing Club – a former caravan park toilet block off Shore Street – yesterday.
Plans were first announced for the project in 2014 after Aberdeenshire Council agreed to sell the facility to the group for a nominal £1 fee.
While it has been meeting and storing its vessels in the nearby former Red Kirkie church ever since, its members are relishing the new possibilities in the future.
Club secretary Graham Souter said: "We have other premises, an old church, for storing boats and having a workshop, but there is no social area so activities for the club have been fairly limited.
"This new boathouse will let us get more folk involved in a number of different ways."
The interior walls, plumbing and electrical cables of the former toilet block were all stripped out last year, making way for a meeting room and kitchen, changing facilities and a garage in its place.
It will offer a relaxing space for people to meet with others after sailing sessions, as well as a venue for other community groups to get together.
The refurbishment cost a total of £97,000 – funded by organisations including North East Scotland Fisheries Local Action Group, The Gordon and Ena Baxter Foundation and Aberdeenshire Area Initiative Fund.
Mr Souter said: "The official opening was very good and all of the folk there seemed to enjoy themselves. We're very excited to get going."
Rosehearty Sailing Club was started in 1999 as a means of marking the then-upcoming millennium celebrations.
Its members joined forces to build a replica sailing boat – with around a dozen other vessels following in its wake.
More recently, the club has been working to encourage more youngsters to try a new hobby on the water through sailing classes.
The group is also considering a number of other projects.
Mr Souter added: "We'd like to get more people involved with the club, so we are exploring the idea of coastal rowing, which is something that's done in a lot of other communities.
"If there is interest, that will be our next venture."