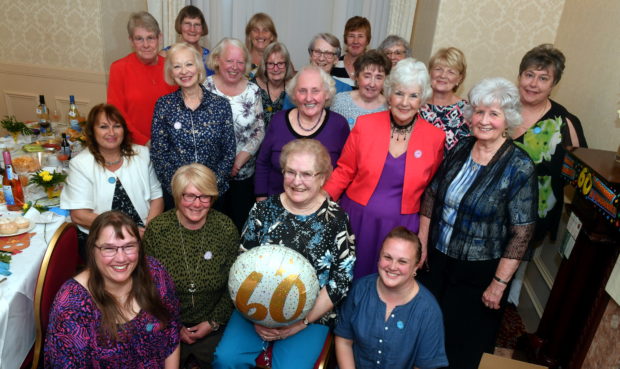 A north-east pensioner enjoyed a hen party with a difference last night – as it took place 60 years after her wedding.
When Mary Greig tied the knot in 1959 there was no such thing as a hen party, which have become a staple of women's pre-wedding routines since the 1970s.
The Fraserburgh woman decided to mark the special occasion of her diamond anniversary with about 20 of her pals from craft and bridge classes.
They descended on the Ban-Car Hotel for the "hen party" last night – but enjoyed a more peaceful celebration than their younger counterparts typically might.
Mrs Greig, 79, said: "The idea of a hen party evolved when thinking about how we would celebrate our 60th wedding anniversary.
"Ideas were suggested and discarded as some of them would be too stressful, but I really wanted to get all my female friends together for a party.
"I have spent so much time with them in crafting classes and playing bridge.
"This idea of a hen party came to life. There was no such thing when we got married so I am having a jump back in time."
The night kicked off with a quiz which was followed by a number of activities from a demonstration on how to arrange scarves to cartoon drawings and floristry.
Mrs Greig's husband, Allan, joined in the celebrations in time for nibbles later in the evening.
Mrs Greig said she considers herself "lucky" to have enjoyed six decades of wedlock.
She said: "Allan and I were lucky, when we met we liked and respected each other.
"There is no 'one size fits all' when it comes to relationships so we don't feel qualified to suggest how other couples could follow a pattern to success."
Mr and Mrs Greig first met at a shop in Fraserburgh when she was 15 and he was 18. Romance blossomed during trips to the cinema and long walks around the town.
Mr Greig was called up to perform National Service and the couple resumed their relationship two years later when he returned to the north-east.
The couple were married at Old Parish Church in Fraserburgh on September 30, 1959.
They have two sons, three grandchildren and four great-grandchildren.
Mr Greig found work at Benzie and Millers as furniture and carpet salesman, and Mrs Greig worked as a library assistant.
When Benzie and Millers was severely damaged by a fire, the couple started their own carpet and flooring business.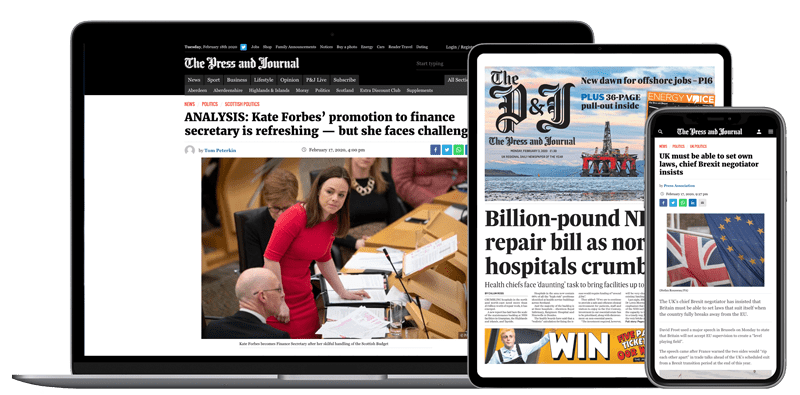 Help support quality local journalism … become a digital subscriber to The Press and Journal
For as little as £5.99 a month you can access all of our content, including Premium articles.
Subscribe