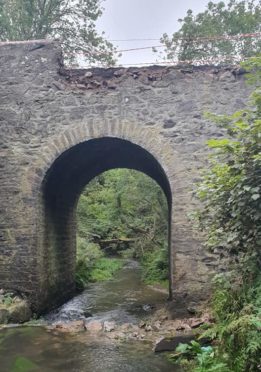 A bridge in rural Aberdeenshire will be closed for months, causing locals a "massive inconvenience", after a mystery vehicle destroyed a wall.
People living around King Edward have been left with a three-mile diversion after the Auchmill bridge sustained severe damage in what appeared to be a crash.
The masonry parapet wall at the small crossing was knocked into the Craigston Burn beneath following the collision, which is thought to have taken place on Tuesday, and traces of blue paint were scratched onto the wall and a nearby fence.
Aberdeenshire Council has confirmed that an emergency road closure has been carried out, and signs have been erected advising drivers to take an alternative route.
Cameron Anderson lives near the bridge and has appealed for people to come forward if they saw a blue vehicle "sporting some substantial scrapes".
He said: "This has caused a massive inconvenience. The bridge is completely unpassable.
"Basically the whole side of the bridge has gone, whatever vehicle did it has torn down the whole side which has fallen into the burn below.
"The police were involved earlier and, at the time, they didn't know what had happened as nobody had come forward to say.
"It's a pest. The diversion is about two or three miles now to get round and back to the road we take to get to work.
"Lorries are using the road regularly when I don't think they should be, it's almost definitely not capable of that. It's frustrating as someone knows what happened."
Officers for the council will assess the damage over the next three weeks before deciding on the next step.
A spokeswoman confirmed it is "likely to take some months" to arrange for appropriate repair work.
Local councillor Mark Findlater said: "I know this bridge well and have used this route a lot in the past when visiting my constituents.
"There are many farms, businesses and residents that this will affect and I have real empathy for them in this bad situation.
"I gather that the accident has not been reported and so I encourage anyone with information to contact the police on their 101 number, or indeed the confidential line.
"Aberdeenshire Council officers are on the case with this and councillors will get an update in the near future once our officers have done their preliminary work."
Councillor John Cox added: "At this time of year farmers are very busy so I hope the bridge can be reopened very soon."
A police spokesman was unable to offer any comment.