Flooding has caused chaos across the north-east for residents and motorists.
Areas including Banff, Macduff and Gardenstown appear to have been affected the worst after heavy rain hit the region early this morning.
A number of roads have been closed including a stretch of the A90 at Lonmay and Banff Bridge has reportedly been shut.
UPDATE:
Bridge inspections taking place after day of flooding chaos in the north-east
The Met Office issued a yellow weather warning for heavy rain while the Scottish Environment Protection Agency has warned of flooding across Aberdeen, Aberdeenshire, Moray and parts of the Highlands.
Read more here:
Pictures show conditions north-east motorists faced this morning after heavy rain hit
Darren Wiseman, from the Crovie by the Sea Facebook page, said neither him nor his father – who has lived in the village all his life, have ever seen that amount of water come down before.
He added as the water had not receded yet, it was not known what damage has been caused.
A police spokesman said: "Due to severe weather conditions in the north east of Scotland today, officers alongside partner agencies have closed a number of roads between Fraserburgh and Banff.
"These include sections of the A98 between Longmanhill and Crudie and the A952 at the junction with the A90, as well as the A90 at Lonmay.
"The A947 at Banff Bridge has also been affected and officers are currently responding to reports of bridges having collapsed along the unclassified road between King Edward and Gorrachie."
Inspector Mark Stephen, Aberdeen Police Office, said: "I would urge the public at this time to only travel if necessary, avoid these roads, and not to drive through flooded areas of road where the depth cannot be gauged. Anyone with any concerns should contact Police via 101."
A fire spokeswoman said: "We have been responding today to multiple reports of weather-related flooding around Aberdeenshire including Fraserburgh, Macduff and Banff. We would like to take this opportunity to generally remind motorists to be careful when driving in such conditions due to standing water."
A number of events have been cancelled due to the weather.
The Fraserburgh FC and Huntly FC clash has been postponed due to a waterlogged pitch while a family fun day due to be held at Aden Country Park has also been cancelled.
Organisers posted a statement on their Facebook page. It reads: "Unfortunately due to the amount of rain in the past 24 hours, Aden Country park is extremely wet, dubby and some areas of the park are flooded. We have therefore taken the very difficult decision to cancel the heritage and tractor day scheduled for tomorrow. We apologise for any inconvenience caused. We would appreciate it if you could all share the news far and wide."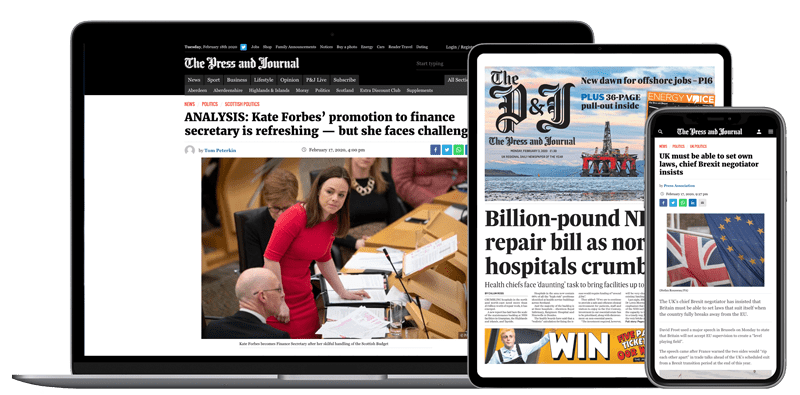 Help support quality local journalism … become a digital subscriber to The Press and Journal
For as little as £5.99 a month you can access all of our content, including Premium articles.
Subscribe