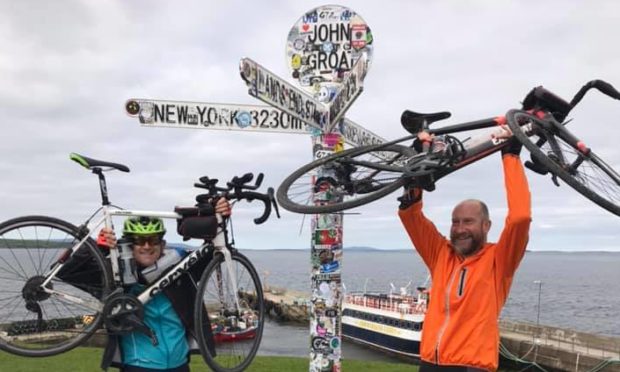 Two friends have raised £5,000 for cancer charities while completing a life-life ambition to cycle the length of the UK.
Scott Cummings and Paul Beaumont completed the 1,000 mile challenge in aid for two cancer charities close to their hearts.
Mr Beaumont, from Ellon, lost his mum Edna to pancreatic cancer in June last year, and chose to support Macmillan who supported the family.
Mr Cummings' wife Sandy battled stage three breast cancer in 2012, and Clan were there to support her journey to recovery.
The pair, having already mastered other tough cycles, were determined to raise money for the two causes and pedal from Land's End to John O'Groats in two weeks.
Mr Cummings said: "On average we were cycling for about six-and-a-half hours a day covering about 70 miles a day.
"Glencoe was especially tough with 40mph plus winds, flooding and constant rain. We had to peddle downhill.
"It was truly to toughest thing we have ever done and was physically, mentally and emotionally draining but the messages of support we received kept us going.
"We would like to thank everyone who kindly donated and to the 14 businesses that sponsored each day of our journey.
"Also everyone that baked, helped or attended our two coffee mornings."
The men gave cheques for £2,500 to each charity this week.
For Clan, that is enough to provide 130 professional counselling sessions and 58 bed nights at Clan Haven or 76 one-to-one sessions with the children and families team.
Louise Mackay, Macmillan north of Scotland fundraising manager said: "98% of our funding is from public donations and it really is down to people like Paul and Scott that we are able to provide our vital services – thank you.
"Their fundraising could fund a Macmillan nurse for two weeks, helping people living with cancer and their families receive essential medical, practical and emotional support."