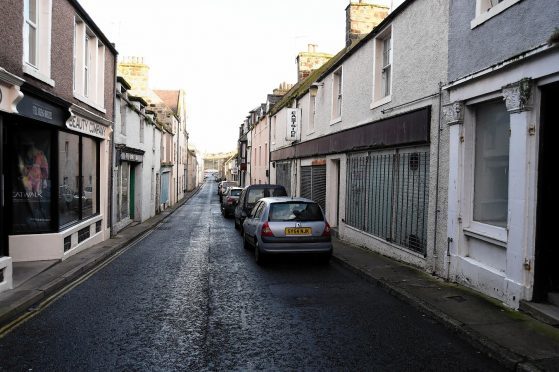 A £700,000 scheme to "dramatically increase footfall" in a north-east town centre has been unveiled.
The Scottish Government pledged the cash to Aberdeenshire Council earlier this year as part of a nationwide package of grants designed to make town centres more attractive.
The authority has now drawn up a plan of action to boost trade on the beleaguered Bridge Street in Banff.
The council says its "overarching vision" is to make the street an "attractive environment" for small shops and businesses.
At present, the pavements along the street are narrow and there are aims in place to make it more pedestrian-friendly – rather than "purely an area to park or as a through-route for cars".
The design also features lantern lighting columns, penny farthing-inspired cycle stands and a 22kw vehicle charging point.
Project coordinator, Kirsty Black, said: "Bridge Street presents a challenging but unique environment and the scheme proposed is ambitious.
"However, the results would be transformational for Bridge Street and the rest of Banff.
"The improved street scene would be capable of promoting regeneration in the short term as well as paving the way for future anticipated regeneration in the Old Market Place area."
The Fairhurst design group was recently appointed to develop the project, taking into account the comments received in a public consultation.
The design team says the plans will make pedestrians feel more comfortable.
Councillor Glen Reynolds last night welcomed the progress on the plans.
He said: "This scheme is a massive step forward in moving on from investing in old and historic buildings that are in need of being brought back to life.
"It recognises that promoting the business and consumer environment is key to regenerating not just Banff but the surrounding area.
"This will dramatically increase footfall, which is vital."
Aberdeenshire Council's application is the latest in a long line of developments that involve Bridge Street.
It was shut off to the the public from February to late August to allow a derelict building to be transformed into accommodation for the Smiddy Centre of Excellence for Silversmithing and Jewellery.