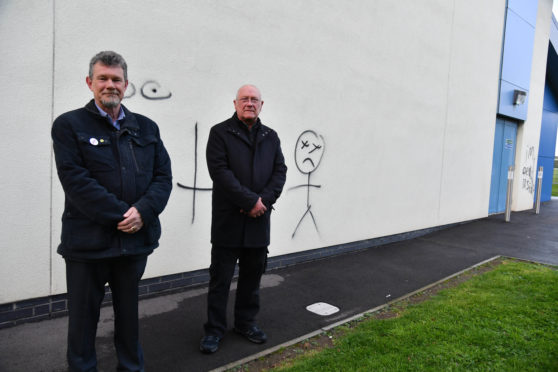 Police are following positive lines of inquiry after graffiti was scrawled on a north-east sports facility.
The council-run Macduff Community and Sports Centre, also known as the Myrus Sports Complex, was targeted by vandals late last week.
A variety of black drawings were painted across the £3.5 million centre, which opened in 2016.
They included a stick man, smiley face and the words "I am dead inside" and prompted police to be called to the Duff Street facility on Friday evening.
A spokesman has confirmed the police are now following "positive lines of inquiry to trace those responsible".
Richard Menard, chairman of the Banff, Macduff and District Community Safety Group, said the actions of those responsible were "disgraceful".
He said: "People worked hard to get that building and for these yobs to go and do that is disgraceful.
"The centre is one of the jewels in the Macduff crown and to see it defaced is dreadful.
"To be honest, it totally baffles me why someone would do that, but it is probably out of stupidity and ignorance."
Last night a spokesman for the police confirmed their involvement.
He said: "Officers were called to Macduff Community and Sports Centre at about 6pm on Friday, October 25, after reports of vandalism to the exterior of the building.
"Officers are following positive lines of inquiry to trace those responsible."
Local councillor Ross Cassie was angered by the cost incidents such as this incur.
He said: "Vandalism has no place in a civilised society.
"Damaging what we have eventually leads to us not having it.
"Cleaning up the graffiti will cost the local taxpayers money that could have been better invested in those who need it."
Councillor Mark Findlater added: "I'm really annoyed and disgusted at the mindless vandalism of this wonderful facility that we all fought so hard to make a reality."
The centre, which is part of Aberdeenshire Council's Live Life Aberdeenshire, was officially opened by the Princess Royal in April last year.
A council spokeswoman said: "There was some graffiti on the outside of the building.
"This has been reported to the police, as is standard with any form of vandalism to our facilities."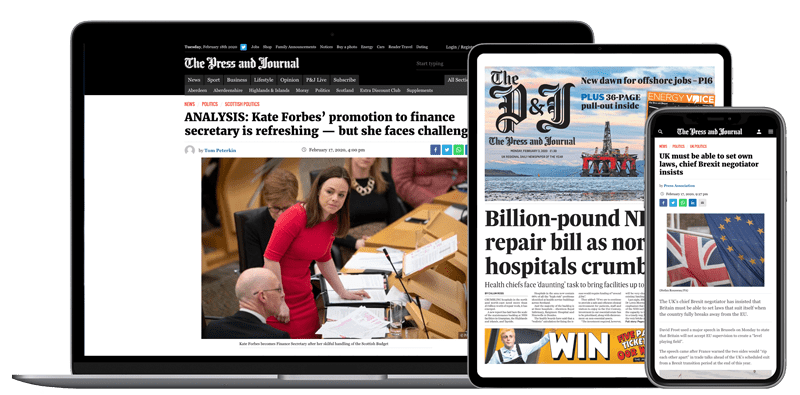 Help support quality local journalism … become a digital subscriber to The Press and Journal
For as little as £5.99 a month you can access all of our content, including Premium articles.
Subscribe