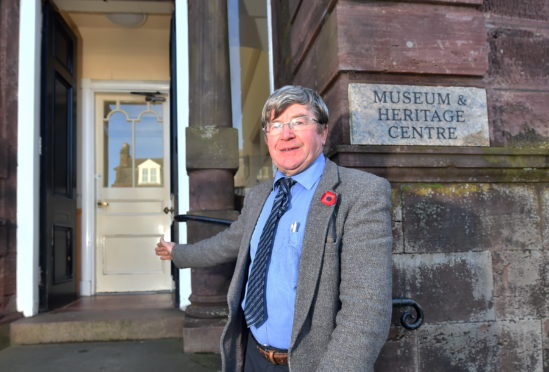 A local heritage society is rejoicing after a four-year process ended with it taking ownership of the historic building that has become its home.
The Turriff and District Heritage Society submitted an application to Aberdeenshire Council back in 2015 to request the Municipal Buildings be transferred into their care.
The foundation stone for the C-listed Municipal Buildings was laid on November 4, 1908, by the first provost of Turriff, John Hutcheon, who died the following year.
The High Street property was then used as the town council building until Aberdeenshire Council ceased using it in 2012.
In 2015, the heritage society – itself 41-years-old – took an interest and leased it from the council, setting up a museum in the space, focusing on Turriff and the surrounding area.
Now, after a long community asset transfer process, the group have taken full ownership and are excited by the possibilities for the future.
Chairwoman Judith Mackie said: "It's been a long road of ups and downs but now we own the building we can look at different funding opportunities that are now available to us.
"This will help us bring the museum into the 21st century while also preserving the historic building for years to come.
"For us a heritage society, preserving the building is important. It was gifted to the people of Turriff, so it's good that a community group now owns it again.
"We are all volunteers with a passion for our local history and we would desperately love some new volunteers who would like to help out or who have similar interests to us.
"As a society we're just delighted that we own the space now and plan to make the most of it for our community."
Local councillor Iain Taylor was delighted the formalities of the transfer have been processed.
He said: "It was essential that these historic buildings have a use and a home within the local community.
"I'm glad that after so much work and effort has been exerted by the Heritage Society this has borne fruit and they have something to show for their efforts."
After applying for the transfer, the society submitted a business case which was considered by council officers and then approved by the Formartine area committee.
A common good order was then used to transfer the property from the Aberdeenshire common good to the group.
The transfer officially concluded last week and ownership passed into the hands of the society on November 1.
The council's area manager, Elaine Brown, said: "This marks the conclusion of an extensive process and a lot of great team work between council officers and society members."
The museum is closed to the public until spring but work will be going on behind closed doors to ready it for reopening.
Anyone wishing to get involved with the society should email info@turriffheritage.org.