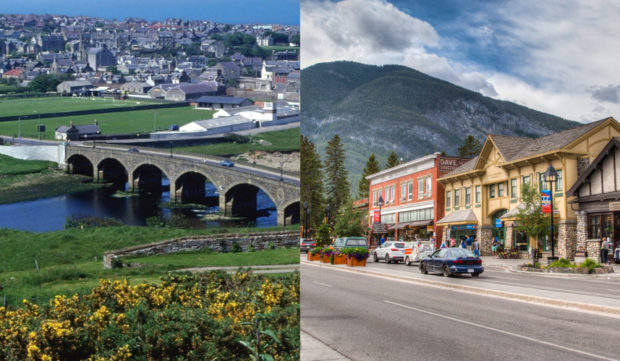 The north-east town of Banff could soon be paired with its Canadian namesake.
A group of businesspeople from Aberdeenshire have banded together to promote the twinning of the two towns in the hope it will invigorate their economies and boost both tourism and education.
With interest also being expressed from Banff, Alberta, 4,000 miles away, a working group was set up to figure out the logistics of a partnership.
Now, after significant progress, a public meeting will be held on Wednesday, November 20, so that more north-east groups and residents can get involved with the project.
Des Cheyne, owner of the Spotty Bag Shop, came up with the idea in the hope the two towns could help each other.
He said: "Being born and bred in Banff, it would give me great delight to see a partnership arrangement with Banff in Canada.
"It would hopefully help tourism in our area and in turn could bring potential investment to our town.
"We are looking to develop a strong link with our namesake over in Canada and would hope to see mutual benefits."
George Stephen, president of the Canadian Pacific Railway, named the Canadian area Banff after his Scottish birthplace.
The rail company built a series of grand hotels in the resort location, including their Banff Springs Hotel.
Kenneth West of Aberdeenshire's Banff Springs Hotel is excited by the possibilities the closer ties could bring.
He said: "I am looking forward to linking up with Banff in Canada and helping to not only reestablish historic links with the Banff Springs Hotel but the community here as a whole."
Lord Lieutenant of Banffshire Andrew Simpson is a member of the partnership working group and is urging local residents to get involved in the project.
He said: "There is an increasing awareness that we live in a global community.
"This partnership has the exciting potential to provide opportunities for people of all ages to share with people from another country.
"We would welcome as many as possible to come along to this meeting to find out more and to take part."
The meeting will take place in Banff Academy on November 20, at 7pm, and will feature the premiere of a video, produced locally, to showcase the town to the Canadians.
Proposals for the partnership will also be discussed. For more information, email banffandbuchanamo@aberdeenshire.gov.uk.
Banff v Banff, a comparison of the two towns
The Scottish town:
Former royal burgh
Situated at Banff Bay on the north-east coast
Population of 4,100 as of 2016
Average household income £24,170 as of 2011
Main industries include agriculture and tourism
The Canadian town:
Resort town located within Banff National Park
Situated in south-west Canada, landlocked
Population of 7,850 as of 2016
Average household income is $81,088 (roughly £47, 680)
Main industry is sales and services as a tourist destination